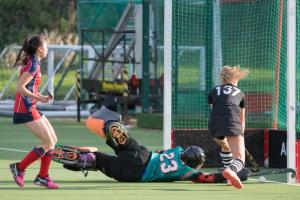 Alderley Edge Ladies 1st XI faced Sheffield Hallam 1s at The Edge on Saturday in what turned out to be a goal extravaganza. A blistering first half saw Edge four goals up at halftime: the first from Lexi Archer deflecting a short corner strike from birthday girl Sarah Hopkin and the second from a scramble in the D where Nic Hall picked up a shot from Amanda Bennison.
Three and four came from short corner routines which saw Annie Hebb and Dominique Debeijer's names added to the list of goal scorers. Hallam came out with renewed fight and vigour in the second half and managed to pull a goal back but, almost immediately, Nic Hall stole the ball from a defender and crossed for Amanda Bennison to finish, taking the score to 5-1. Sheffield came back again and scored a further two from short corner routines before Edge woke up, allowing Sarah Hopkin to sink her own goal from a short corner before Man of the Match Issy Reynolds-Duffy took a pass from Annie Hebb and rounded the goal keeper to push the ball into an empty net. Final score 7-3. The Ladies head to Doncaster, who currently sit one place above them in Premier League North, next weekend for what promises to be a tougher match.
The Mens 1s faced Timperley in a mid-table clash in their North Premier League fixture. The game started with Edge settling into good spells of possession but they struggled to create open chances, with the exception of a few shouts for short corners that were turned down.
Edge dominated possession and restricted Timperley to just a few counter attack opportunities in the first half but it wasn't until just before the half time break that Edge fashioned a few chances with Warburton and Part narrowly missing opportunities. The second half began in similar fashion with Edge dominating possession. They finally managed to break the deadlock when Warburton found Johnson who finished smartly with a first time shot into the corner of the goal.
Edge then began to sit back which invited some pressure from Timperley and had to rely on Jim Riley to make a string of strong saves. However, the pressure eventually told and Timperley scored an equaliser in the final two minutes. A disappointing result for Edge who will feel they should have won with the amount of possession they had.
In Cheshire League division 1 the Ladies 2s home fixture against Macclesfield 1s also ended in a frustrating 1-1 draw. Edge had the majority of possession and numerous short corners in their match but struggled to penetrate Macc's very organised defence. The match was goal-less at half time before Macc scored from a highly contentious short corner. Edge came back strongly but still struggled to convert possession into chances until Lois McTiffin lifted a shot above Macclesfield goal keeper.
The Ladies 4s were away to Wilmslow 3s in Cheshire League division 3 and won 3-1. With a concede last week, the young team were fired up and determined from the start, taking control of the game against an experienced, and soon frustrated, Wilmslow. Izzy Broadhurst scored twice, the result of some great play down the wings, with Amber Oxley adding a third.
The 5s beat Northop Hall Ladies 2s 3-1 in division 4 while the 6s trip to Runcorn proved an equally prosperous one, securing all three points by also winning 3-1.
The Mens 2s lost a tetchy home game 2-6 against a young and fast Windermere 1s in North League division 2, this result elevating the visitors to the top of the league. It was much better news for the Mens 4s though when they took on a physical and experienced Runcorn 1s in North-West division 4. Runcorn sat second in the league going into the match and were riding high after a 10-1 victory the previous week. Regardless, Edge made an electric start and were quickly two goals up courtesy of Charlie Whittaker and Rory Savin. James Parkin and Louis Godfrey added two more in the second half. Final score, 4-2 winners and great to get some points on the board at last.
The boys and girls U16s both kicked off their England Hockey cup campaigns on Sunday against Bowdon. The girls played extremely well as a unit and their quick and slick passing left Bowdon wanting. They ran out 4-1 winners with Libby McCoy scoring a hat trick and Lois McTiffin pushing home Edge's other goal.
The boys' game finished 2-2 in what was a fast-paced game from the off. Bowdon were relentless in their attack but Edge firm and their quality passes and tackles were eventually rewarded with goals from Simon Swatland and James Parkin.
Photo: Nic Hall gets past Hallam's keeper.
Match report by Sue Polley.
Tags: