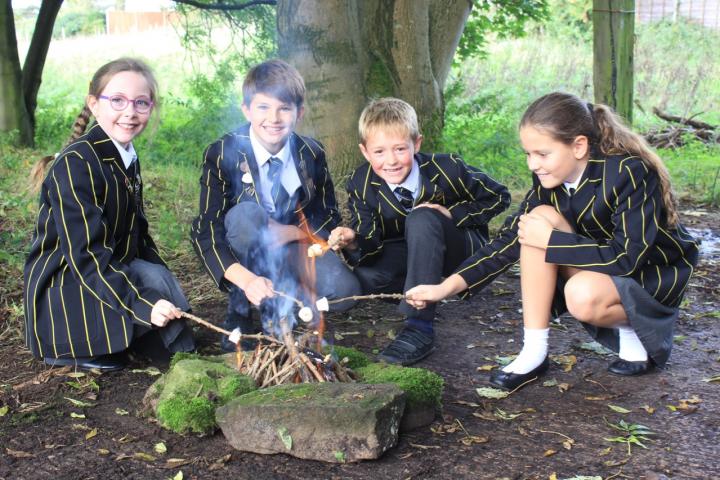 Promotional Feature
The Ryleys School is investing in and expanding its outstanding facilities to offer an inspiring outdoor educational experience in the form of a Forest School.
The aim of the Forest School is to give all pupils from Nursery right through to Year 6 regular opportunities for personal development through hands-on learning in a natural environment. There will be child-led exploration as children crucially develop their awareness of their environment and skills for life.
The large-scale project, which has already got underway, will begin with excavating and flattening the area followed by an extensive landscaping programme to include a lawned classroom activity area, a wildlife pond, a natural wildlife area for minibeast hunting as well as a carefully planned sensory garden. In addition, there will also be a wooden seated area for outdoor learning and lunch, a fire place and benches as well as vegetable patches, a greenhouse and hen house to keep several school hens.
The children can look forward to many hand-on activities including den building, foraging, building and lighting fires for marshmallow toasting as well as bread making, natural crafts and the opportunity to work with tools.
Even key academic subjects such as maths, English and science can be addressed and taught outside and the class provides a different dimension to learning.
Headteacher, Mrs Julia Langford, said: "Our Forest School will be the perfect place for young minds to learn in a diverse and engaging way. Young people today face significant challenges that may be daunting and it is vital that they acquire the necessary life skills to meet those challenges head-on, with resilience and self-confidence."
The Ryleys School will be offering workshops and family days to the wider community so that everyone can benefit from its outdoor educational provision. Details of up and coming events will be announced on the school's website.
Based on a highly successful Scandinavian education model, Forest School is a way of enabling young people to have the opportunity to spend time in the natural environment to learn through practical involvement and free play.
Tags: