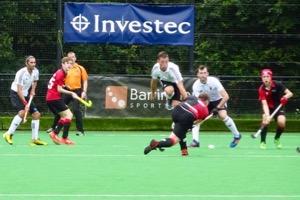 AEHC Ladies 1s scored their first points in North Hockey League Premier Division when they beat University of Leeds 3-1 in a rainy home fixture on Saturday. They showcased some brilliant hockey and were up after two minutes following a quick break away from defence, which Issy Reyolds-Duffy finished after finding herself 1 on 1 with Leeds' goalkeeper.
Goal two followed 20 minutes later when player of the match Caitlin Polley fired the ball towards goal, her saved shot converted on the rebound by Nic Hall. Leeds came back after half time with renewed energy and effort and were quickly rewarded with a goal from a short corner. A very even and tense second half then ensued with chances at both ends before Emily Short scored Edge's third after a goalmouth scramble five minutes before the final whistle. The Ladies face Neston 1s away next week.
The spoils were shared 2-2 when the Mens 1st XI made the short trip over to Bowden for their North Premier League fixture.
The game started relatively slowly with Bowden breaking the deadlock late in the first half, scoring from a short corner which brought to an end a frustrating half for the visitors.
Edge started the second half much more positively and their endeavours were eventually rewarded when Greg Johnson turned magnificently in the D and rifled the ball into the roof of the net to even the score. Edge continued to press and were unfortunate not be awarded a penalty stroke when James Warburton was fouled by the goalkeeper. Warburton also had a goal disallowed after the referee blew for a foul in the build-up.
Greg Johnson was then shown a yellow card for a challenge 15 minutes from the end which saw Edge reduced to 10 men. Despite this, Edge continued to push and were rewarded with a goal from Billy Headley in what was only his second match in this league to go 2-1 up. Sadly for Edge, however, Bowdon' s continued pressure took its toll and they scored with less than 5 minutes to go to draw even again.
The Mens 2s also came away from their North Hockey League division 2 fixture with a point, drawing 4-4 against Lytham 1s. Edge showed good character to equalise four times but some careless play at each end of the pitch meant that they never managed to convert their dominant possession into a lead on the scoreboard. Goal scorers were Simeon Mellor (2), Simon Swatland and Jake Rothwell. Special mention goes to Joe Gregory for an influential performance on his return from a long term injury.
The Ladies 2s faced Oxton in Cheshire League division 1 in what they expected to be a tough match given that Oxton finished third in the league last year. However, Edge's speed of play proved way too much of a question for the opposition to answer and Edge found themselves 1-0 up after five minutes after a merciless Claire Davidson shot from a short corner, followed by an equally emphatic goal from Bethany Woodhead , the result of some good play between her and Lois McTiffin.
After the break some more good work from Lois saw her fly through Oxton's defence before slipping the ball inside to Jude Offer, who scored with a diving finish. 3-0 is how it finished, with a great team performance and particular mention to Elise Johnson who was on top form.
Photo: Mens 1s in action against Bowdon.
Match report by Sue Polley.
Tags: