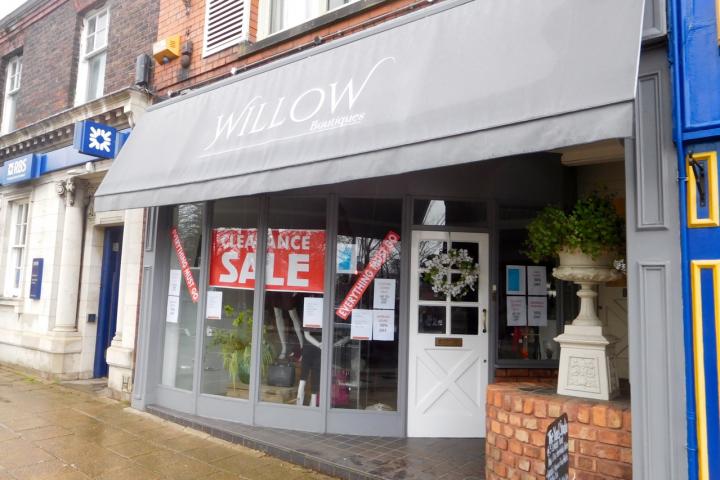 Plans to increase the office space above a retail unit in the village centre have been approved.
EGM Properties Ltd has been granted planning permission to build a 2-storey extension at the rear of 3 London Road, above an empty shop unit which was most recently occupied by Willow Boutique.
The scheme includes making internal alterations to create a new parking bay at the basement level, which would be accessed from the rear of the property, replacing the windows at the front of the building on the 1st and 2nd floor, making modification to the windows on the rear and side elevations and rendering the rear of the building.
Alderley Edge Parish Council recommended refusal of this application on the grounds that it is an overdevelopment of the site, there is insufficient parking for its intended uses as an office and there are issues around manoeuvrability and access to the underground car park.
A previous application (reference 17/2607M) was withdrawn earlier this year. One of the issues with the initial scheme was the design and materials were deemed not in keeping with the surrounding area. The revised scheme has retained a contemporary aspect, however has also incorporated similar materials to reflect surrounding properties.
The officer's report states that application 17/2607M was also considered not acceptable in design terms as it protruded too far from the rear elevation, resulting in a negative appearance on the character and appearance of the area particularly when viewed from Heyes Lane. The revised proposal runs flush with the gable of the rear elevation at first floor.
Referring to the creation of a parking space, the Planning Officer said "The existing use of the site is retail and office and this will remain the case in this application. Given that there is no change in the use of the building the provision of a parking space can only be seen as beneficial in regard to highways, there is sufficient space to the rear to manoeuvre into the garage."
Tags: