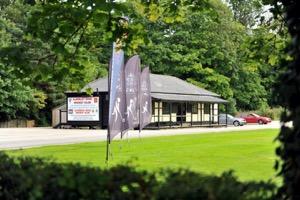 While AEHC's men's teams had their final pre-season warm up games, the Ladies 2s set out their stall winning their first league match of the season.
While the Ladies 1st XI's debut season in the North Premier Division doesn't begin until next Saturday, the Ladies 2s kicked off their season with a home fixture in Cheshire League division 2 against a very physical Chester second XI.
Edge got off to a good, if slightly scrappy start, with Jude Offer flinging herself into the goal to edge in a shot from Nicola Hall. The rest of the first half was quite a tense affair with Chester's physical defending style frustrating Edge which allowed the visitors to draw even before half time.
The second half saw Edge step up their game with some brilliant attacking play and some very strong defending from Sophie Wheeler. Nic Hall scored 10 minutes into the half, with Izzy Mowatt solidifying Edge's lead 15 minutes from full time. 3-1 at the final whistle to Edge as they start their season as they mean to go on.
In the same division a young Ladies 3s went down 3-1 to Northop Hall, hindered by having no subs or goalkeeper. The 4s were away to Triton in Cheshire League division 3 and, like the 3s, found themselves on the back foot from the start due to not being able to field a full team. They started tentatively with only 10 players and struggled to keep Triton out, finding themselves going into half time 0-4 down. More fluid play in the second half and a hat trick from Emma Fluck saw the final score 7-3 to Triton.
The 5s drew 1-1 against Winnington Park 2s at home in division 4, while a very young 6s team travelled away to face Sandbach 1s in division 5 and lost 4-2.
The Mens 1st XI set themselves a serious challenge with two friendly games against National League opposition. Deeside's higher tempo proved too much of a question for Edge and they went down 5-1, despite playing well and Sam Gregory finding the back of the net. Their second match against Leek ended 4-4 and saw goals from Angus McCormick, James Warburton, Sam Buckingham and Rob Trem. The team is now well prepared for next weekend's league opener against Didsbury Northern.
The 2s played away at Bowdon and came away with a 6-1 victory against a side boasting a number of ex National league players. Alderley's goals were shared amongst Simeon Mellor, Matt Hardy, Joe Coxon, Matt Cresey and Chris Hardy while Simon Pickering excelled in goal.
The 3s took on a Bowdon 4s side at Kings Macclesfield and posted a comfortable 4-1 win, while a well-balanced Men's 4s team, bolstered by the return of Rory Savin, beat a young Bowdon 5s team 7-1. It was great to see seven different scorers: Harry Oakes, Tom Helen Curran, James Parkin Rory Savin, Andrew Jordan, Josh Benton and Ed Offer who pushed up from central defence.
The 5s took on Bowdon 6s at Kings and quickly took control of the game with an early goal from Luke Stevens. Louis Godfrey then scored twice, the second goal being a brilliant reverse stick strike from the edge of the D. Edge controlled most of the first half with some slick passing with Bowdon only coming into the game towards the end of the half when Edge tired and stopped passing as well. 
Edge reverted to their short passing game in the second half which resulted in debut goals for Joe Clapham, Oliver Clemetson and Sam Jones and a 6-0 win.
A new look Men's 6s drew 3 – 3 with Bowdon 7s while the Beavers A, B and C teams were all in action and posted a win, a draw and a loss between them.
Match report by Sue Polley.
Tags: