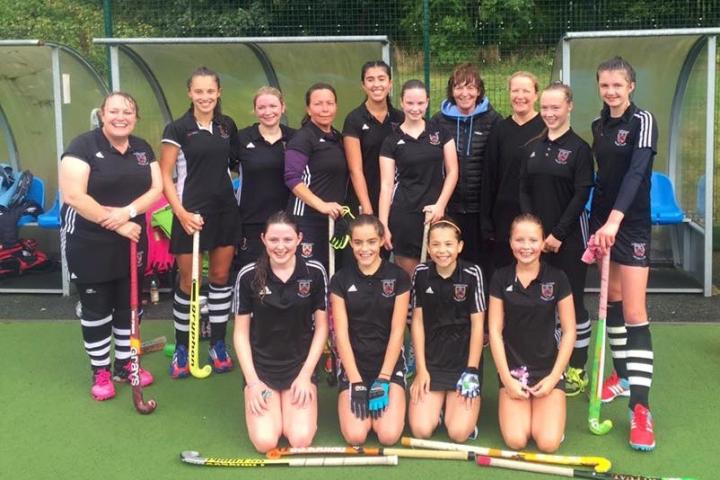 This week has seen a flurry of activity at AEHC as most teams enjoyed pre-season friendly fixtures ahead of the league season starting proper on 23 September. There was also fantastic news for the club as Ladies 1st XI midfielder Caitlin Polley and Goalkeeper Nat Stevens were named as part of the England U16 and U18 training squads respectively.
"Huge congratulations go to both girls," said Club President Graham Bryant while Caitlin, a student at Cheadle Hulme School added "I feel very excited and proud to have been selected. I'd also like to say thank you to the club and coaches for all their help in helping me to get this far."
Elsewhere The Mens 1s faced Brooklands 1s and, although they lost 3-1, the match saw an inaugural club goal from Rob Trem. Overall, it was also a promising performance with a number of regular players still to come back into the squad. Moreover, good performances from Under 18 players Charles Barnes, Billy Hedley and Max Riding bodes well for the season ahead. The men face Didsbury Northern at home in their first North Premier League match in a fortnight.
The Mens 2s, 3s, 4s and 5s all had matches with their relevant opposition at Neston. The 2s beat Neston 1s in what was a good team performance with debuts for Ollie Andrews and Adam Robertson. Jake Rothwell scored the highlight goal of the match with a wonderful reverse stick finish from the top of the D. The 3s lost 3-2 away while the 4s and 5s both won their matches.
The Ladies 1s continued their preparation ahead of their step up to North Hockey Womens Premier League by taking on Brooklands 2s away. The match ended 1-1 with Lexi Archer scoring for Edge. The Ladies had a frustrating first half as a result of poor passing and running into contact. However, they came out much stronger in the second half and had most of the possession.
The Ladies 2s enjoyed a convincing 5-0 away win over Bowdon 3s. Edge were 3-0 up at half time with goals from Izzy Mowatt, Flossie Blackwell and Amy Colledge. Continued pressure and slick passing resulted in two more goals in the second half, both courtesy of Lois McTiffin.
A very young combined Ladies 3s/4s faced a much more experienced Macclesfield 1st XI at Kings Macclesfield and went down 2-4. A brand new Ladies 6s came together well but went down 1-4 to Bowdon 6s with Lindsey Taylor managing to break through the very experienced Bowdon defence to score Edge's only goal. The Ladies 7s comprised several players making their Ladies hockey debuts and they posted a fantastic 6-2 win over Didsbury Northern. Sophie Smith, Evie Hadfield, Lily Turnball and Lara Tabachnik all got onto the scoresheet for Edge.
The club also fielded three Beavers (typically school years 7 and 8) teams on Saturday who posted a win, a draw and a loss between them.
All in all several positive performances and a lot to look forward as the start of the season draws ever closer.
Photo: Ladies 7s.
Match report by Sue Polley.
Tags: