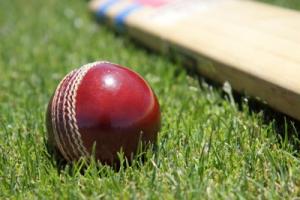 Alderley Edge First XI slipped to second place in the ECB Cheshire Premier League on Saturday following a tough day at neighbours Bramhall. Captain Adam Worrall won the toss and asked the hosts to bat first. Alderley struck regularly with the ball to leave the home side in difficulty on 111-5 with both captain Nick Cantello and the dangerous Danny Lamb accounted for. Bramhall's number 6 and 7 then began a destructive 30 minutes of hitting to put on 93 runs for the 6th wicket pushing the score past 240. T20 star Iftikhar Naseer hit 8 sixes in plundering 70 runs off just 41 balls, Matthew Higginbottom continuing the onslaught once Naseer had been dismissed to register his half century from 54 deliveries. Alderley re-grouped to dismiss the hosts for 253 with 6 overs to spare, taking the final 3 wickets for 6 runs. Hamish Winter-Irving claimed 4-62 and Richard Wilkinson 3-45 as the pick of Alderley's attack.
Bramhall's bowlers began strongly in reply reducing Alderley to 48-3, Higginbottom following up his performance with the bat by claiming the first 3 wickets to fall finishing with 3-21. As wickets continued to tumble Richard Wilkinson provided the mainstay of the innings with 74 from 116 balls. When he was the 9th wicket to fall with the score on 187 Alderley were looking to avoid defeat with numbers 10 and 11, Adam Condliffe and Andrew Windle, left with 5 overs to negotiate in the evening gloom. Both remained unbeaten to help Alderley register a draw, a sublime on-drive for 4 from Windle taking Alderley's score to 191 and an additional batting point as Bramhall took the lion's share of a 15-8 points split from the afternoon.
Jon Usher's Second XI fared better at Moss Lane with a 9 wicket destruction of Macclesfield. Winning the toss and electing to bowl first Alderley's attack ran through the visitors for 138 in just over 43 overs, Macclesfield's captain Alex Griffiths producing the only score of note with 40 at the top of the order. Chris Cook claimed 4-42 and Jonny Scurrah 2-17 for the home side. With the bat, Alderley romped to their target in less than 30 overs for the loss of just one wicket, Scurrah completing a fine all-round display with 71 not out and youngster George Bell producing an excellent 45 not out opening the batting in just his second appearance in the side.
On Sunday Alderley's 3rd XI completed a hard earned victory in difficult conditions against Hyde at Moss Lane. Asked to bat, Ed Pitt (57) and Henry Stevinson (43) compiled Alderley's first century opening stand of the season. A fluent innings of 81 not out from Jonny Scurrah enabled an early declaration at 232-3. Hyde's innings was built around a fine unbeaten century from their opener and they were always in with a chance. The Alderley attack lacked any real consistency and when persistent drizzle arrived midway through the innings, the fielding further deteriorated. However, Alderley persevered and key spells from Scurrah and Harry Elms, who took three wickets apiece, ensured that Hyde's final wicket fell at 212 in the penultimate over, leaving Alderley winners by 20 runs.
Match report by Andrew Windle.