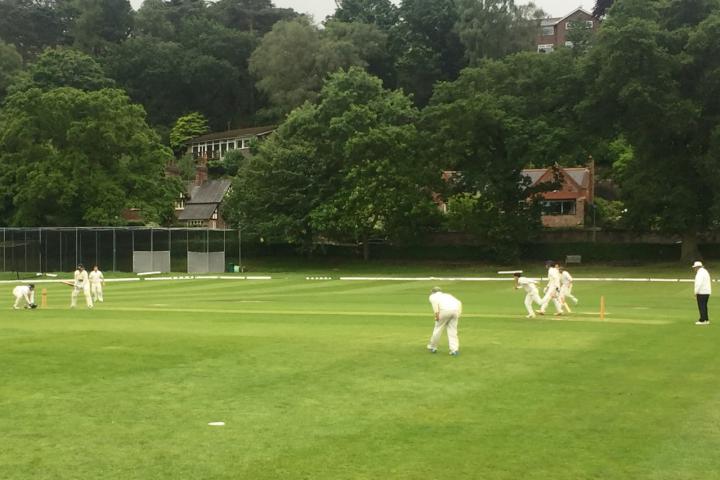 Alderley Edge CC First XI took advantage of the inclemental weather affecting other games to jump back to the summit of the ECB Cheshire Premier League with victory over Cheadle on Saturday at Moss Lane.
With rain delaying the start to 2:30pm Alderley skipper Adam Worrall won the toss and elected to bowl on a greenish pitch with the match reduced to 70 overs from the usual 110. Cheadle's opening pair applied themselves well in the bowler-friendly conditions to reach 47 before the fall of the first wicket, Greg Dixon making a patient 34 at the top of the innings. The introduction of Richard Wilkinson and Andrew Windle into the attack began to make inroads into the Cheadle order, both seamers taking two wickets apiece to reduce the visitors to 65-4. Cheadle rallied on the back of Henry Appleyard's 44 to take their total through to 133-6 but Charlie Reid swept up the Cheadle lower order to claim 4-12 with Cheadle all out for 143.
Rain through the tea interval saw a further reduction in Alderley's innings to 27 overs in which to chase the 144 runs required. Alderley started brightly with opening batsmen Alan Day and Ed Fluck forcing the pace with some big hitting in the initial overs, both registering 3 sixes in their first wicket stand of 58. Day fell for 34 off just 30 balls, with Fluck making a rapid-fire 45 off 39 deliveries. The quick start was just what Alderley required as further showers reduced the second innings by another 4 overs. Richard Wilkinson steered the home side to their target in the 20th over with 29 not out to give the hosts victory by 6 wickets in claiming the maximum 25 points.
Jon Usher's Second XI registered a welcome victory at Upton in another reduced overs game, this time to 80 overs. Usher won the toss and elected to bowl with the opening combination of Dan Fesmer and Ollie Hall keeping the home side's scoring rate in check with just 40 runs registered off the opening 20 overs, Hall 2-12 and Fesmer 2-25 off their 10 overs respectively. Ash Bhamidipati supported well through the middle overs in taking 1 for 45 as the home side set a modest total of 130-6.
Alderley's opening pair of Adam Wildig and Ollie Hall began strongly, dispatching the balls to all parts of the Wirral ground until Wildig missed a straight full toss on 45 to give Upton one of only two wickets to fall in the second innings. Hall carried his bat for a well made 55 not out as Alderley reached their target in just the 17th over.
On Sunday, Alderley's Third XI made it a clean sweep of victories with an impressive win over League Champions, Didsbury. Accurate bowling from Fosbrook and Perry backed up by enthusiastic fielding from the home side restricted Didsbury to 199-6. Alderley chased down their target with more than ten overs to spare with Perry again making a key contribution aided by strong performances from Chalk and Chong.
Match report by Andrew Windle.