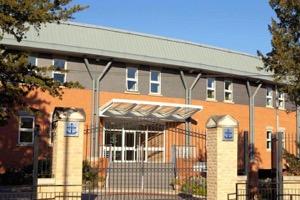 Alderley Edge School for Girls (AESG) is planning to install new sports pitches at their Wilmslow Road site which can be used for netball, tennis and hockey.
They have submitted one planning application to level the sloping playground at the front of the junior school and install mesh fencing and floodlights. Additionally they are seeking planning permission, via a second application, to construction an artificial grass hockey pitch on the school field, with 1.2m perimeter fence and no floodlighting.
In November 2016 AESG announced that they were no longer progressing with plans to build a new multi-sports facility on Council owned land off Wilmslow Road. This was partly due to the conditions of the lease but also the time it would have taken to get the project underway.
Instead the school decided to focus on improving the sports facilities on their own land and have recently developed a fitness suite.
In addition to levelling the ground at the front of the junior school to build a netball facility and constructing a hockey pitch on the rear field, plans include a complete refurbishment of both the school gym and the school's tennis courts.
Additionally they are using the land they own off Lydiat Lane, which the previous Parish Council had intended to relocate the Heyes Lane allotments to so they could create a car park on the Heyes Lane site, for rounders and athletics in the short term.
The plans can be viewed on the Cheshire East Council website by searching for planning references 17/2588M and 17/2586M.