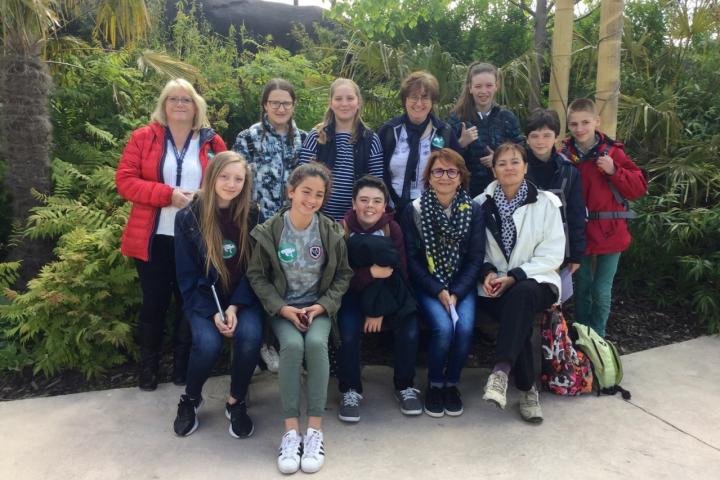 Promotional Feature
This is the second face to face meeting with European partners in as many months for Alderley Edge pupils, made possible after gaining Erasmus+ funding.
Pupils from partner school Groupe Scolaire St Jacques de Compostelle, Dax visited Alderley Edge School for Girls as the culmination of a three year reading project. The aim was to promote reading for pleasure and critical appreciation of texts amongst younger pupils. During the project Year 7 pupils in both schools read common texts in their mother tongue and then explored their reaction to the texts through a variety of creative media.
The text chosen for this meeting was Wonder by RJ Palacio. During the meeting pupils were made aware of real life facial disfigurement as well as being involved in a number of creative activities such as writing poems and comic strips inspired by the story and creating a trailer for the film of the book.
The project has helped pupils to gain self-confidence, to develop their critical competences and languages skills as well as to learn to work together in a multinational context.
Erasmus+ is the European Union's (EU) programme for education, training, youth and sport, with the EU committing £12 billion to the programme between 2014 and 2020. In the UK, the programme is managed by the Erasmus+ UK National Agency, a partnership between the British Council and Ecorys UK.
The project is funded under Key Action 2 of the programme which focuses on sharing, developing and transferring innovative practices in education, training and youth provision between participating countries. It aims to increase the positive impact of European activities at all levels to ensure benefits for the individuals, organisations and countries involved in projects.
Project co-ordinator Ann Bush said: "We really enjoyed this project week. Altogether over 50 pupils and staff were involved in the meeting. Year 7 is a great age for pupils to benefit from this sort of project because they are incredibly open to new experiences. Erasmus+ projects such as this benefit pupils academically and socially as well as broadening their horizons for the future. We are delighted to have been part of this major Erasmus+ project in which girls from all years have been involved in one project or another. Over 200 pupils and staff have been involved in and reaped the benefits of this project during the last three years."
Photo: French pupils from DAX visit AESG.