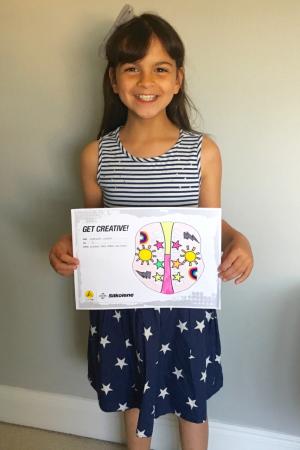 A talented young artist from Alderley Edge has won a national competition to design an eye-catching cycle helmet.
Eight-year-old Charlotte Cassidy came out on top of an online vote to pick the overall winner of Fuchs Silkolene's Design a Helmet competition.
Charlotte triumphed with 44 per cent of the vote. As top prize winner, she will have her design made into a real helmet as well as an exciting bike stunt show from The Extreme Mountain Bike Team at her school, Alderley Edge School for Girls.
Charlotte said: "I enjoy cycling at weekends with my family and thought it would be fun to design my own helmet. I am really looking forward to the exciting stunt show at my school."
Charlotte's design has a weather theme with rainbows, lightning, sun and stars.
Sally Travis, marketing manager at FUCHS, said: "Huge congratulations to Charlotte for winning our competition.
"We received some fantastic entries and it was a tough task picking our three finalists. Charlotte's weather themed design clearly stood out to those people voting.
"We hope Charlotte enjoys using her helmet, which will look fantastic and keep her safe while she's out on her bike."