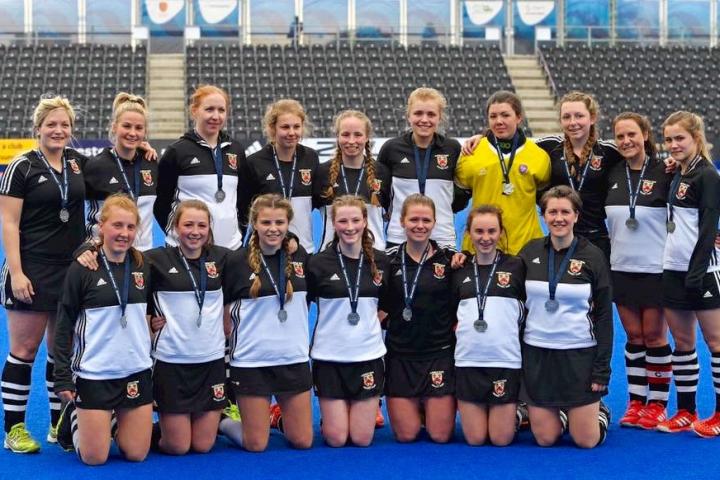 It was a case of so near and yet so far for AEHC 1st IX in the final of the EH Investec Trophy at Lee Valley Stadium, London on Sunday.
After a thrilling, end-to-end game which ended 4-4 at full time, Edge lost 3-1 on penalty shuffles to University of Nottingham.
Despite finding themselves pinned into their own half for much of the first quarter of the game by a fast and well-structured Nottingham team, Annie Hebb put Edge into the lead after 16 minutes, capitalising on a rebound off Nottingham's goalie. However, this lead was short lived as Nottingham came back strongly, netting three goals within 10 minutes.
Edge kept their heads though and youngest player on the pitch, Caitlin Polley, pulled one back for Edge seconds before half time, tapping in a fierce strike from Sarah Hopkin from the half way line.
If Nottingham had the best of the first half, Edge were certainly the stronger team in the second, although the game was still too close to call. Annie Hebb struck again after five minutes to level the score at 3-3, only for Nottingham to almost immediately pull ahead again following a defensive error from Edge.
The black attack never gave up and Amanda Bennison levelled the score yet again for Edge with 15 minutes left to play. Despite noisy encouragement from both sets of supporters, the score line remained unchanged, meaning the final result was decided by penalty shuffles. Never a nice way to win or lose a game after so much hard work, University of Nottingham scored three of their first four shuffles to claim the trophy despite Edge keeper Nat Stevens' best efforts.
Despite this disappointment, it has been a phenomenal season from Edge's Ladies and they look forward to the new challenge of life in the North Premier league next season. Huge thanks also go to all AEHC's supporters who made the long trip down to London and certainly gave their University of Nottingham counterparts a run for their money!
Match report by Sue Polley.
Tags: