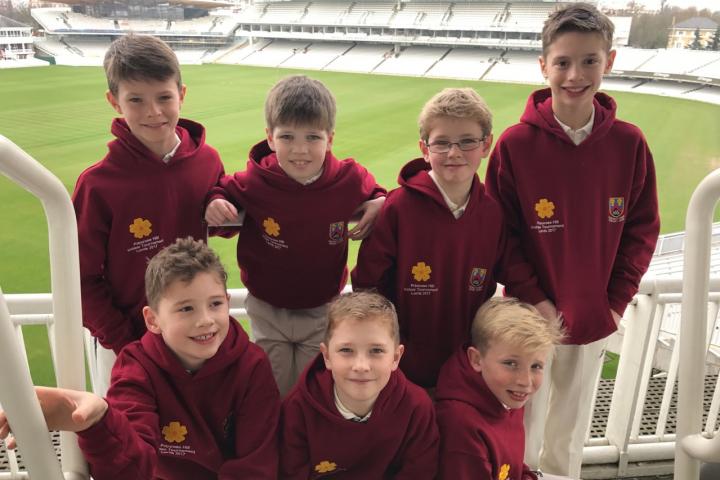 Seven boys from the AECC Under 11 squad travelled down to Lords Cricket Ground - the home of cricket - this weekend to take part in the Primrose Hill Indoor Cricket Trophy and returned as champions, having won the trophy.
It didn't all go Alderley's way, but after a close fought final the team secured the winning runs which crowned them as 2017 champions, and with it brought the honour of automatic entry to next year's tournament to defend their title.
Teams from all over the country took part in the event at the prestigious venue and the day included the boys being able to tour the Lords facilities including the famous "Long Room" and the official England dressing room.
Matches stared at 9.00am on the Saturday morning and Alderley were first up. Having bowled out the opposition for 62 runs, they comfortably made the winning total with the loss of no wickets. In their second game Alderley made 156 runs, which after some great bowling was enough to secure their second victory by 90 runs.
Having won the toss in the final, Sam Woolf (captain) put Dinton CC into bat and after just three balls of the innings, Alderley took the upper hand taking 2 wickets for just 2 runs. Dinton recovered slightly and managed to rally an innings score of 84. With some great batting, Alderley Edge were cruising towards the winning total but the loss of three quick wickets with one run left to secure victory made the finish extremely tense. One ball later Alderley had won the final game and were crowned champions. Man of the match chosen by the coaches of the two finalists went to Rocky Flintoff who opened the batting for Alderley and made significant runs throughout each innings.
Having received the trophy, Sam Woolf commented "Playing cricket at Lords has been a little surreal and all the lads have put their best performance in. It's been a great tournament and I'm delighted how the whole team have played. To come away from Lords cricket ground as champions is a dream come true."
The players were: Sam Woolf (c) Daniel Woolf, Corey Flintoff, Rocky Flintoff, Theo Johnson, Archie Vaughan and Joe Chapple.
Three months earlier in December 2016, the AECC U11 side had also won the LBW Indoor Tournaments at both U11 & U13 age groups.
Match report by Nigel Woolf.