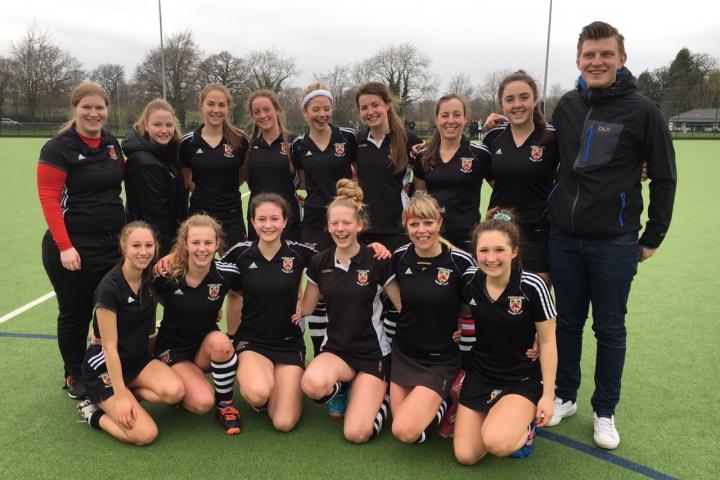 With just one week left of the 2016/17 league season, AEHC Ladies 1s winning forms continues. However, they still face a crucial Cup game next week and an agonising wait to see whether they will secure promotion to the Investec Conference North.
Although secure in second place in North division 1 behind their opponents next week, University of Leeds 1s, in a somewhat confusing chain of events their potential promotion is now in the hands of Belper and whether or not they get relegated from the Conference. The Ladies are in fine form though, beating Lymm 1s 3-1 at the Edge on Saturday and Didsbury Greys 2-0 the previous week.
They also won their Investec Trophy Quarter Final against City of Peterborough last Sunday. The match ended 3-3 at full time with the visitors looking the stronger team for long periods of the game although both teams played some extremely high quality hockey. However Edge kept fighting and eventually won after the game went to nail biting, sudden death penalty flicks. Goal keeper Nat Stevens was certainly channelling Maddie Hinch and it paid dividends – here's hoping the home advantage pays off again next Sunday when the Ladies entertain Lancaster in the semi finals!
The Ladies 2s were unstoppable in Cheshire league division 1, demolishing relegation-bound Bowdon 4s 12-0 at home. Nicola Hall scored a hat trick and opened the scoring within the first couple of minutes, with Jude Offer quickly adding a second with a fantastic, first time, mid-air strike. Lois McTiffin scored the first of her two goals by following up and deflecting a Claire Davison short corner, meaning Edge were 3-0 up within 12 minutes. The remainder of Edge's goals came in the second half: Jude scored her second goal after some great work from Nicola Hall and Tori Blackwell then ignored all advice about passing and nailed one into the top corner. After some unfortunate collisions between their own players, Edge got it back together and Jude Offer scored her third goal through the keeper's legs. Abi Cook stepped up from defence to score Edge's seventh goal with a straight strike. Emily Fell scored a beautiful penalty stroke, closely followed by yet another Jude Offer goal.
The young Ladies 3s team didn't fare as well in the same league against Macclesfield 1s, going down 4-0. The girls paid the price for not being "on it" from the off, and were two goals down within ten minutes. From there on in it was much more even, but Edge struggled to convert pressure into clear chances. They take on Nothop in their final league game next week, safe in the knowledge that they have done enough to avoid relegation.
The 4s lost 2-1 to Lymm 3s but the 5s reversed Edge's fortunes, beating Lymm's somewhat aggressive 4s 3-2 courtesy of goals from Emily Stapely, Flossie Blackwell and Hannah Lee. The 6s look to have secured a fantastic fourth place in Cheshire league division 5 with a 1-1 draw against Neston 4s at home, Edge's goal coming from Georgina Whittaker.
The Mens 1st XI's 6-3 away win over Ben Rhydding this week, and 3-2 win over Chester 1s last week, have secured them third place in the North Premier League. This equals the club's highest ever finish – and they still have an outside chance of second.
Ben Rhydding started quickly and created several early chances which kept Edge's defence on its toes, however, Edge capitalised on their first foray into their opponent's D, the forwards linking up and Simon Parr getting the finishing touch. Angus McCormick then had a goal from a short corner disallowed but Ben Gregory made amends, forcing the ball over the line after Ben Rhydding's goal keeper partially saved another of Angus' strikes. Gregory then scored again just before half time. The second half started well for Edge with James Warburton converting a penalty strike for 4-0 before Angus McCormick then let rip from a penalty corner which was allowed. The home team got a couple of goals back when Edge eased off slightly before Ben Gregory rounded off the game with his hat-trick.
The 2s sadly now sit bottom of North League division 1 and face probable relegation following this week's 2-3 loss against Lancaster & Morecombe. The Men's 3s also missed their chance to secure their position at the top of North West division 3 when they lost 1-4 to Timperley 2s. They now sit second, one point behind Deeside Ramblers 3s with just one game left to play against Wrexham next week. No pressure then!
The 4s went down 1-4 to Bowdon 4s in division 4 while the 5s were subjected to a lesson in attacking hockey from Sale 1s who beat them 6-0. However, to put things into perspective, all bar two of this team are U15 players and, although they might not always win, they rarely fail to impress their opposition which usually comprises significantly more experienced players.
The 6s beat Winnington Park 4s 2-0 and now look set to finish the season mid table in division 7, while the 7s drew 1-1 with Bowdon 8s.
The U16 girls had their work cut out on Sunday in the EH U16 North Finals, facing opposition from Bowdon, Beeston and Wakefield, whose senior 1st XI teams all play in the National league. Although they didn't qualify for the National finals, the girls more than did themselves proud, winning 2-0 against Bowdon, drawing 1-1 against a very feisty Wakefield but losing 4-0 to eventual winners Beeston.
Edge's U14 girls and boys teams faced each other on Friday evening in a friendly match ahead of their respective North Finals in a couple of weeks' time. The boys eventually ran out 3-0 winners but they certainly didn't have everything their own way! Fingers crossed both teams can win their Finals and bag tickets to the National Finals at Lee Valley.
Further down the age ranges, and illustrating the club's depth of talent, the Club hosted another really well received U11 girls tournament on Sunday where they had enough players to field three teams while also putting out both Beavers and Badgers teams on Saturday.
Match report by Sue Polley.
photo: Ladies 2nd team.
Tags: