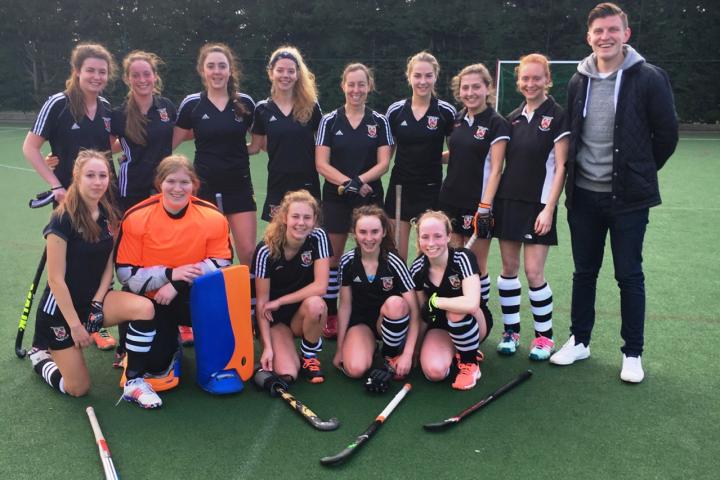 The U16 girls and the U14 boys join the already qualified U14 girls in their respective England Hockey U14 and U16 North Finals after good wins in their pool matches on Sunday.
A win at these finals in April would then see the youngsters contest the National Finals at the Olympic Stadium at Lea Valley in May. The U18 girls take on Wakefield in their Championship next Sunday.
The U14 boys performance was testament to their 'never give up' attitude – their winning goal against strong opponents Repton came 50 seconds from the final whistle when Morris Green was on hand to superbly control the ball and calmly slot it into the goal after Repton's goalkeeper intercepted Ben McIlven's shot. Repton led in the first half with Edge's first goal game coming from a fierce strike from Joe Tabanchick after a well-worked short corner.
The U16 girls beat Neston 3-0 at home to secure their place at North Finals with a game in hand. The girls lacked structure and accuracy with their passes for much for the first half but Ellie Ward's goal five minutes from half time seemed to settle them down slightly. Brogan Tennant then found the back of the net twice in the first ten minutes of the second half and there was no way back for the vistors thereon in.
All seven Mens teams were in league action on Saturday with the Mens 1s back to their winning ways in the North Premier League. Their 3-2 win over Formby meant they leapfrogged their rivals to reclaim second place in the table. Angus McCarmick, Matt Creasy and Simon Parr were on the scoresheet for Edge in what, in the second half in particular, was a very tetchy affair with a plethora of cards for both teams.
The 2s went down 5-1 to third in the league Harrogate while the 3s racked up 10 goals against Deeside Ramblers 3s to consolidate their place at the head of North West division 3. The 4th XI's trip to the Wirral peninsula resulted in a fair 2 -2 draw with Neston 4s in division 5, Edge's goals coming from Simon Swatland and Dom Andrews. The 6s and 7s both lost their fixtures against Wilmslow but special mention must go to the several Juniors who made their senior debuts in these games.
The Ladies 1s posted a very significant 6-1 away win against Bowdon 2s in North League division 1. Just seven points from their last four games should see them prompted to North Premier league next season. A fantastic achievement.
The 2nd XI also kept their promotion hopes alive in Cheshire league division 1. A somewhat depleted team travelled to Birkenhead and beat hosts Neston 2s 3-0 in a re-arranged fixture caused by a previously frozen pitch. In fairness, Edge should have scored more but two goals from Nicola Hall and one from Caitlin Polley were enough for three vital points. They currently sit second in the league with the top two teams earning promotion. However, there's just three points between the top three teams who and four games of the season remaining so things really couldn't be tighter.
Match report by Sue Polley.
Photo: Ladies 2s.
Tags: