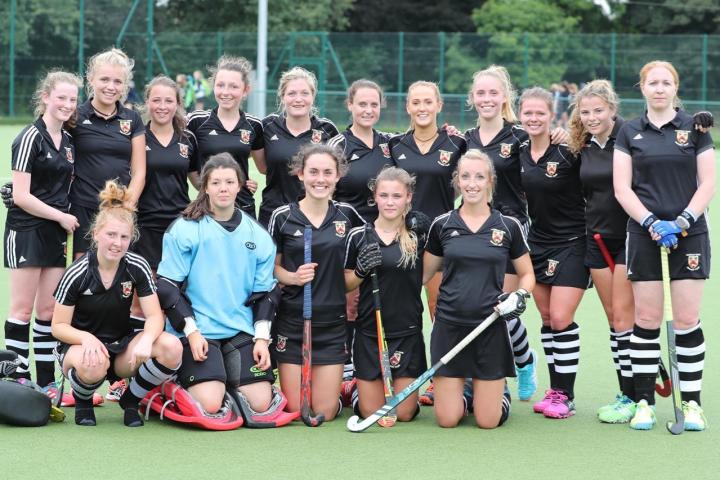 The Ladies 1s took the long road to Whitley Bay and Tynemouth this weekend for their North division 1 fixture against the North-Eastern opposition. It was a worthwhile venture, despite the horizontal hail, as they returned home with all three points and a well-earned 2-1 win following four consecutive draws over the last four weeks.
There were some good performances all round with Issy Reynolds-Duffy taking the man of the match award for a super display. Congratulations also go to Caitlin Polley and Olivia Moores who both made their 1st XI league debuts. The Ladies remain unbeaten in league and cup this season and welcome league leaders Leeds University next Saturday.
After beating Lymm 2s in the second round of the EHB 2nd Cup the previous weekend, the Ladies 2s continued their winning run in Cheshire division 1 this weekend, beating Chester 2s 4-2 in a hard fought and physical game. After a slightly shaky start, Claire Davison scored 12 minutes in with a blinding straight strike from a short corner, but Chester came back quickly to draw level. Edge managed to pull ahead just before half time, with Elise Johnson finishing off a well worked team move. Edge were the stronger team for much of the second half and after only four minutes Victoria Newton scored from a brilliant cross from Emily Short. Emily sealed the win soon after from another short corner.
The Ladies 3s fought hard in what was a close game against Winnington Park and were unlucky to go down 3-2 against a more experienced team. The 4's also lost their Cheshire division 3 fixture against Runcorn who currently sit second in the table. The 5s had a late and somewhat chilly push-back against Deeside Ramblers in division 4 and lost 1-3, but both the 6s and 7s won their matches against Triton and Bebington Ladies respectively.
The Mens section had a challenging weekend with the 1s, 2s and 3s all losing, albeit the 2s and 3s to the respective league leaders.
The 4s and 5s faced each other in North West division 4 and, predictably, it was a competitive affair. The 5s were boosted by the experience of Phil Benton, Nigel Baker-Brian, James Offer and Chris Everett to supplement a team that has played well in patches this season but has ultimately lost all its games. The 4s had most of the possession and chances - a cool piece of finishing from Alisdair Smith giving the 4s a 1-0 lead at half time. A sweet strike from Chris Taylor from a short corner in the last play of the game made the final score 2-0 to the 4s. Several beers back at the Club followed by a night out at Yara possibly resulted in more sore heads than legs the following day!
The Mens 6s were left disappointed by their 4-4 draw against Macclesfield 3. They started well with goals from Ben Sharrock and Mike Parkin in the first 20 minutes, however a lax subsequent 15 minutes allowed Macclesfield to get two back before half time. The second half was end to end with Edge going ahead again and looking like they were going to hold out for a win until a last minute surge from Macc, combined with some slopping defending, allowed a frustrating equaliser.
The 7s, however, had a better time of it, beating Macclesfield 4s 2-1. Edge could have made it more but missed several chances, with ultimately only Simon Hunt able to find the back of the net.
Many of the Club's Junior teams were also in action over the weekend. The Beavers B team (aka U12 girls) took on Deeside Ramblers at Chester and played better than the eventual 6-1 result might suggest. The main thing is that the girls will have learnt from some repeated mistakes which resulted in cheap goals for Deeside – better things are to come for sure!
The Badgers put in a fantastic display to win 5-3 against Neston. The boys played brilliantly together and built up a solid lead within the first 25 minutes including a hat-trick for Max Howarth. Neston came back stronger in the second half and took advantage of some slack marking by Edge but, overall, a fantastic performance from the young Edge lads.
The U10 boys were on fire at what was a very chilly tournament at Timperley. They faced tough opposition from the likes of Bowdon A, Brooklands & Timperley A and ultimately boasted 5 wins and no goals conceded. Some stars of the future perhaps?
Sunday saw many of the Club's age group teams in action in the EHB U14, U18 and U16 Cup competitions. It was a great day for the girls, with the U14s beating Deeside Ramblers 3-0 and the U16s and U18s both taking on Chester and winning 6-0 and 4-0 respectively. The U14 boys were unlucky to go down 0-3 to a strong Bowdon team which comprised several young international players. The U18 boys beat City of York 3-2.
Match report by Sue Polley.
Photo: Ladies 1st team.
Tags: