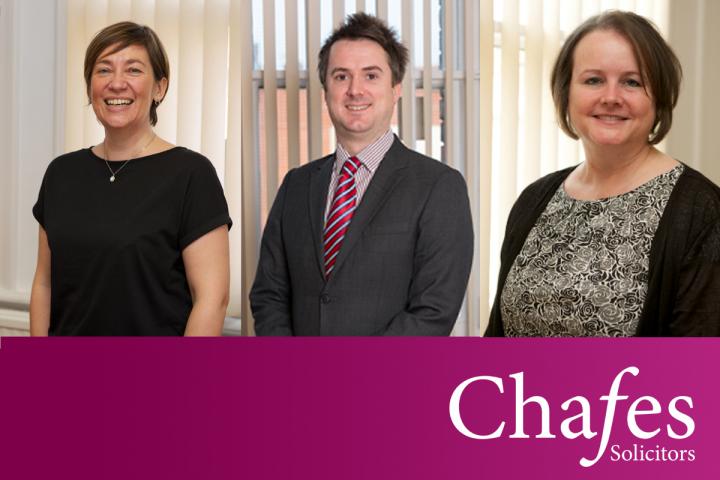 Promotional Feature
Chafes Solicitors LLP continues to show its commitment to employee career progression and growth.
Following the retirement of Mike Travis in April this year and after a review of the firms structure, Cheshire & High Peak based solicitors Chafes Solicitors LLP, have announced that they are about to promote three of their current solicitors to Partner.
The new Partners, Gail Carberry, Rick Bunch and Sarah Waddington will contribute to the management and direction of the firm, working alongside the current Partners.
Gail is the current Head of Residential Conveyancing and works at the Wilmslow office. She has over 20 years' experience in dealing with all types of residential transactions and has been with Chafes Solicitors LLP for nine years.
Gail said "I am delighted to have been asked to become a partner at Chafes and am looking forward to helping shape the future of the firm and the provision of relevant legal services for all of our clients."
Rick has been with Chafes Solicitors LLP for five years and is based at the Alderley Edge office in the Tax, Trusts & Estates department. He specialises in advising local high net worth individuals and families in relation to their complex tax and trusts affairs.
He said about his appointment "Having lived locally all my life, I am looking forward to playing a greater part in the continued success of this locally based high calibre law firm."
Sarah Waddington, Head of Investment Property based at the Alderley Edge office, specialises in investment property transactions. Having worked for Chafes for ten years she has gained a wealth of experience working directly with developers of large new build multi-property developments.
Sarah said "I would never have thought ten years ago when I arrived at the offices of Chafes Solicitors, seeking practical experience working in law, that I would find myself being offered a Partnership today. I am both honoured and very much look forward to taking on the new appointment."
Jon Roberts, Managing Partner said "These are exciting times for Chafes and we are proud to be able to offer Gail, Rick & Sarah this opportunity. They all have a vast experience in their areas of law and will be a welcome addition to the partnership."
Chafes Solicitors LLP provides personal and business legal services from three offices in Wilmslow, Alderley Edge and New Mills.
For more information, visit www.chafes.co.uk.
Tags: