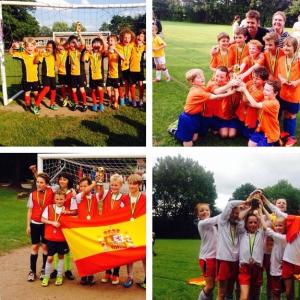 Football fever is set to consume Alderley Edge and Wilmslow as youngsters battle it out on the pitch in the WFA Mini Euros.
Thirteen schools from the area will be competing in the tournament next week which is being organised by 
Wilmslow Football Academy.
WFA Head Coach Erik Garner said "Wilmslow Football Academy traditionally hosts an annual interschool football tournament for all the primary schools in the area but this year we wanted to make it extra special with it being Euro Year.
"Each year a different school host's the WFA Interschool Tournament and this year David Goulbourn Head Master of Pownall who is an avid football fan, asked if we could hold the tournament at his school which is where WFA is based so we are delighted".
He added "Everyone loves the Euro's and the only thing better than watching football is to play it. What can be better than actually playing in a Mini Euro's whilst representing your school? The other great thing about the WFA Mini Euros is that children from all the school years can take part, not just the older children. The WFA Mini Euros is to be enjoyed by the year ones to the year sixes and finishing off the tournament with a girls only competition."
All the schools have been allocated a country to represent which they will adopt for the week of the tournament and learn about its customs and culture. They will also be encouraged to make banners and flags to wave in support of their school teams during the competition.
The schools will then be drawn into groups and on the day of the tournament each team will play each team in their group with the top two teams progressing to the semi-finals.
Each afternoon teams from Alderley Edge, The Ryleys, Nether Alderley, Lindow, Dean Oaks, Mobberley, Gorsey Bank, Ashdene, St. Anne's Fulshaw, Pownall Hall, Wilmslow Grange, Wilmslow Prep and Lacey Green primary schools will compete in separate age categories.
On Tuesday 21st years 1 and 2 will play followed by years 3 and 4 on Wednesday 22nd, years 5 and 6 on Thursday 23rd and years 4, 5 and 6 girls will play on Friday, 24th June.
The final winners will be presented with the Mini Euro Cup and each player will receive a winner's medal, with the runners up also receiving a medal. All finalists will also receive a special commemorative t-shirt and all players will receive a certificate for taking part in the WFA Mini Euro's.
Erik Garner added "So, if you're not playing in it come and support your school! There will be a BBQ, coffee, ice cream and loads of other stalls supporting the event.

"
Tags: