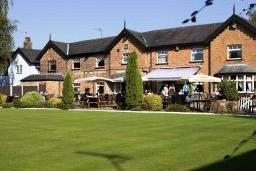 Promotional Feature
Come and have a bite to eat off our new menu, or a cool drink after work, in our fantastic outside setting.
If you have not already visited The Drum and Monkey, there is no better time, recently taken over by a small multiple pub company who has had a run of recent success with other sites, including The Holly Bush at Bollington and four pubs listed in the 'eating out with Cheshire Life Guide', so this pub ticks all the boxes!
We serve award winning Robinsons Ales, cool Crisp lagers and premium Spirits and Wines, as well as implementing a new fresh, home cooked menu in a setting off the busy road, so all food and drink can be enjoyed at your pace and leisure!
Our Menu, has modern and traditional fayre, as well as a choice of Home cooked Roasts on a Sunday, so there is something for every taste here at The Drum and Monkey.
Having also taken over the neighbouring Bowling Green, this is an exciting time, with the potential to host all manner of events, room for a marquee, summer barbeques, hog roasts and parties, so bear us in mind for your family event, - let's make the most of our Summer!!
Do not hesitate to contact us, to make a booking or any questions or queries.
01625 583977
www.drumandmonkeyalderley.co.uk
Tags: