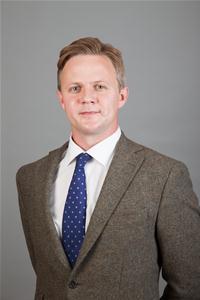 A Cabinet member who is disqualified from being a company director has resigned today (Thursday 14th April) with immediate effect.
Councillor Sam Gardner, who was elected to the Council in May 2015 as Tytherington Ward Councillor, was disqualified in 2013 for four years for misusing money that had been collected on behalf a charity.
In May 2013 Fomfest Ltd, of which Sam Gardner was a director, collected donations of over £4000 on behalf of a charity from guests at a festival which the company had organised. However this money was never passed on to the charity but used by Fomfest to cover their trading expenses.
Councillor Sam Gardner did not disclose his disqualification when interviewed for his Cabinet position as Portfolio Holder for Leisure and Open Spaces Portfolio Holder.
He said: "I very much regret to announce that I have offered my resignation to the new Leader of Cheshire East Council Rachel Bailey and will step aside from my Cabinet portfolio for leisure and open spaces with immediate effect.
"In view of the publicity surrounding my role as a former director and chairman of an events company which went into liquidation in 2011, I do not wish to put at risk the reputation of Cheshire East Council, the Leader of the Council Rachel Bailey or my Cabinet and council colleagues.
"I reiterate what I have said previously that I was not obliged under Council rules to disclose the matter of my disqualification as a company director when interviewed for my Cabinet position and the disqualification is in no way incompatible with my duties as a portfolio holder.
"Cheshire East Council is a fantastic Council to serve and I remain fully committed to my role as a Tytherington Ward Councillor and will work as hard as always for the benefit of my ward and the residents of Cheshire East."
The new Leader of Cheshire East, Rachel Bailey said: "Councillor Gardner has offered his resignation and I have accepted this with a heavy heart.
"He has been a fully committed and dedicated member of my Cabinet and I am very sorry to lose him in these circumstances.
"Elected to Council last May, he was appointed to Cabinet by my predecessor and has brought with him a fresh and vibrant approach to local politics and the work of this Council.
"The Council and the residents of Cheshire East have lost the services of a highly talented, sensitive and dynamic young man who has chosen to step down."
UKIP Councillor Brian Silvester, who called for Sam Gardner to resign as a Cabinet member, said "Cllr Gardner was a director of Fomfest Ltd that went into liquidation owing creditors £440,000. He has been disqualified as a director for 4 years after the company raised over £4000 for charity in 2011 but not one penny went to charity. The money was used by the company instead.
"I fail to see how a person with this record was ever appointed to be in charge of the multi million pound Leisure Services in the first place. To raise money for charity and then use it for the purposes of a company of which he is a director is a very serious matter indeed. Also leaving unpaid debts of £440,000 will have had a serious impact on those who supplied goods and services to his company but ended up not being paid for them."