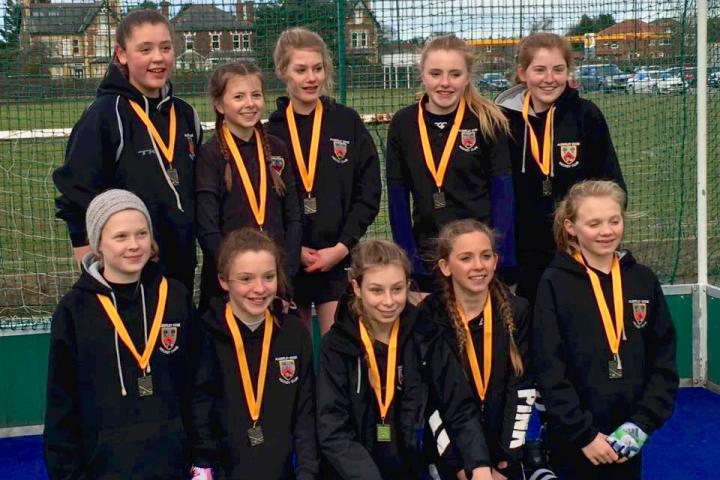 The majority of teams at Alderley Edge Hockey Club (AEHC) ended their league seasons at the weekend, with four of its teams winning their leagues.
The Ladies 1s played their final match of the season in North League Division 2 against Didsbury Northern 2s at the Edge and emerged 4-0 victors.
They started very well and scored an excellent goal inside the first five minutes with Jenni Park rolling off a defender and driving into the D before finding the corner of the net with a fine shot. Thereafter Edge lost their way a little, however, after a quick re-set at half time the team produced some excellent hockey with lots of passing and excellent movement to score three more courtesy of Louise Ogilvie, a second from Jenni Park, and finally a fine team goal finished by Anna Perry.
The result means they finish 10 points clear at the top of the table having won 21 out of 22 league matches but, frustratingly, league rules mean they still have to win the play-offs to secure promotion.
Ladies 2s ended their season in 3rd place in Cheshire League Division 1 with a comfortable 3-2 win over Oxton 1s. Oxton's last minute second goal making the game appear tighter than it was. Two goals for Edge's Jess Clitheroe and one for Ruby Nelson did the damage but special mention goes to Lauren Woodhead and Georgie Dare for charging down every one of Oxton's eight consecutive short corners.
The Ladies 3s were crowned champions of Cheshire League Division 2 following their 3-0 win at home to Bebbington. They will now join the Ladies 2s in Division 1 next season. The visitors tried to spoil the party by playing a strong, physical game but Edge opened their account within 10 minutes with a great goal from Ellie Ward.
Edge dominated the rest of the first half with some great passing moves. The second half saw Edge double the score within minutes when the ball was cleared out of defence by Rebecca Hall, picked up by her sister Nicola who ran round the D, before passing it off to Ellie Ward who was there to slot home her second. Bebbington came back more strongly as the second half progressed but Edge kept their composure. The third and final goal came midway through the half courtesy of Tori Blackwell. A well-deserved win for Edge, completing a great season.
The Ladies 4s hammered Timperley 5-1, making it four wins and one draw out of their last six matches to close out the season and finish comfortably mid table - top work for such a young team!
The 5s battled hard against Oxton 2s who were crowned Division 4 champions following their 2-0 win over Edge. However, the 5s still have two matches left to play and, thanks to neighbours Macclesfield beating Sale at the weekend, are now safe from relegation.
The 6s also took on Oxton over the weekend and came away with a 1-1 draw against their 3s who sit third in division 5. Edge started nervously but a strong defence kept Oxton at bay until just before half time. A couple of shots off the post fired Edge up in the second half and a great strike from Emma Fluck levelled the score. The Ladies finish the season a credible 5th in the league.
The Mens 1s concluded their season last weekend but with the final results in on Saturday they finish mid table in the highly competitive North Premier League.
Having secured the North League Division 2 title the previous week with their eighth consecutive victory, the Mens 2s rounded off their most successful ever season with a disappointing 3-1 loss away at third-placed Urmston 1s.
Edge never quite produced the match intensity which has taken them to the top the table and they were indebted to goal Keeper James Riley to keep the score to 0-0 at halftime, having lost key defender Khalid Sawas to injury mid-way through the half.
However Edge took the lead midway through the second half when Matt Hardy stole the ball from the Urmston centre half and Joe Coxon played it towards the Urmston goal against his former club. Urmston's captain was the only defender left to beat and the umpire deemed him to have deliberately fowled his former team mate and a penalty flick was awarded.
This was calmly converted by Edge's captain Julian Scarsbrook. Unfortunately Alderley were unable to capitalise on their lead and uncharacteristically conceded three poor goals in the final ten minutes, possibly with the pending evening's championships celebrations a distraction.
The Mens 3s and 4s faced each other in North West League Division 4 with the 3s winning 5-2. The 3s finish the season as league champions and, in doing so, secure promotion to Division 3 with Mossley Hill 1s, while the 4s finished a credible fifth.
The Men's 5s finished the season in emphatic style with a 9-1 win at home against Chester. After a hesitant start and some Chester pressure, Martin Webb made a couple of important saves to keep the score at 0-0. An excellent inside pass from Edge's Ollie Andrews set up Max Ridings to make it 1-0. Rob Marks made it 2-0 before some sloppy defending let Chester pull one back. A further Rob Marks goal made it 3-1 at half time.
The second half saw Edge dominate with some excellent team play resulting in a further three goals for Rob Marks and two for Chris Taylor. A fantastic end to a very good season which has resulted in the team tying for second place in NW League Division 5, though frustratingly losing out on automatic promotion on away goal difference.
Congratulations go to the Vixens for winning the U13 Girls Greater Manchester Hockey League and also to the B Team who were U12s playing up a year - no easy challenge! The Ladies section definitely has a crop of talented young players headed its way next season.
The Badgers played some of the best hockey of the season vs neighbours Wilmslow at the weekend. Despite a 2-3 loss, the score did not reflect the play with the Badgers dominating the majority of the game and Wilmslow goals coming from lucky breaks. George Bell and Max Howarth scored but, more importantly, the whole team worked well together, holding good positions and passing well, in what was a fast, furious and often feisty game.
Club President Graham Bryant commented on the end of season results: "As we have almost competed our league programme it's important to thank everyone who has played, coached, managed , umpired or helped in any way during another fantastic season. Whilst the Ladies 1s and 2s, U18s and U14s still have important cup and play-off matches ahead, it is clear we have continued our steady progress with the Ladies 1s and 3s, and Men's 2s and 3s all winning their leagues. Well done!"
Photo: U13 league winners.
Match report by Sue Polley.
Tags: