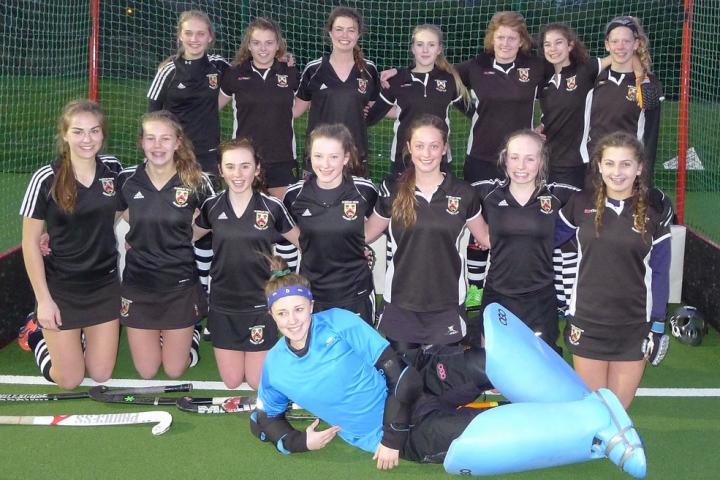 While several Saturday matches were cancelled as a result of Friday's whiteout, a stirling snow-clearing effort by a small group of AEHC volunteers, ably led and directed by Kelvin Briggs, ensured that all four matches scheduled at the Edge on Saturday were able to go ahead.
The Ladies 3s took full advantage of their efforts, comfortably defeating title-challengers Deeside Ramblers 5-0 in a late afternoon push back. The result now assures the team of promotion next season into Cheshire League division 1 – just a single point from their final game of the season next Saturday will also be enough to see them win division 2.
Edge were quick off the mark playing good attacking hockey and were rewarded after 10 minutes when Emily Fell's attempt was cleared by the keeper, only to then be deflected into the net by Caitlin Polley. Edge kept pressing forward giving Deeside little opportunity to create any real attacks of their own. After 28 minutes Elise Johnson passed off a great ball to Nicola Hall who finished off the move to make it 2-0 at half time.
The second half saw Deeside begin to press Edge more. However, 15 minutes into the second half Edge were awarded a short corner - Emily Fell injected the ball into the top of the D where Katie Haszeldine was waiting to fire it into the goal to make it 3-0.
Deeside tried to take the game to Edge on occasions but some great work from keeper Rhiannon Turner prevented them from scoring. 
Gaby Marfani was next on the scoresheet for Edge with a great shot past the keeper before Nicola Hall scored her second of the match with a beautiful strike which left the keeper floundering.
The Ladies 1s showed their class with a 4-0 victory over Timperley 2s in North League division 2 with Jenny Park notching up a hat trick of goals on home turf.
The 2s continued Edge's winning form with a superb 6-0 away win against Lymm 2s. A goal from Julia Tennant gave Edge an early lead and despite a lot of pressure from Lymm, they retained this lead until half time. The second half started well with a goal from Lexi Archer which then led to Edge dominating the remainder of the match with some fantastic passing and further goals from Sophie Hall, Judith Offer, Jess Clitheroe and a second for Julia Tennant.
The Ladies 4s made the long trip to North Wales to take on Buckley 1s and came back with a great result. Led by Rosie Christian-Hare and Millie Clee in midfield, they outplayed their hosts from the whistle and won 2-0. Edge's first goal was a deft finish from Millie with Bethany Woodhead then running rings around Buckley's full backs before burying a reverse stick shot under the keeper. A thoroughly deserved win for a very young team which has got better and better this season.
The Ladies 6s had a tough match against Warrington who sit second in Cheshire League division 5. Edge were under pressure from the outset and defended well to ensure Warrington didn't score. Edge then opened the scoring but couldn't keep Warrington from doing the same three times so went into half time 1-3 down. Edge came out fighting and dominated the first part of the second half. A superb goal then narrowed the deficit to 2-3 but then a staggering three further goals from Edge were disallowed which left players understandably frustrated and allowed Warrington to break and score a fourth. 2-4 the end result of a very physical and challenging game with Emma Fluck and Becky West on the score sheet for Edge.
The Mens 1s played host to Gateshead 1s in the North Premier Division and sent the visitors back to the North-East with a 2-4 loss. Edge's goals came courtesy of a hat trick from James Warburton and one from Andrew Power. They now look set to finish their season mid table with a final home against Sheffield University Bankers next Saturday.
In a nervy match of top versus bottom in North League division 2, the Men's 2s won 2-0 away against Liverpool Sefton 1s to both secure the league title and guaranteed promotion next season. A superb effort all round!
The Mens 5s continued their winning streak with an equally nervy 3-2 win against Bangor in North West League division 5 at the Edge. Thanks to Kelvin and his team of snow sweepers the match started at midday with Edge dominating the first half but only going into half time 1-0 up courtesy of an Andy Walker goal.
The second half started in the same manner with Andy getting a second which should have killed the game. However, poor marking let Bangor pull one back. Andy then duly completed his hat trick but another Bangor goal had Edge hanging on at the end with a disputed short corner in the final minute not help the nerves.
The men now need a win and draw in their final two games to secure promotion - Tuesday night at Kings Macc where they take on Stockport Bramhall is the place to be!
On Sunday the U12 boys put in a fantastic performance and made it through to the final of the finals of the Cheshire County Cup. Although narrowly losing 2-0 in the final, the team still qualifies for the finals with winners Brooklands. After battling out of their group they ended up playing favourites Neston in the quarter final and surprised them with a 1-0 win with a fine goal from Archie Benton.
In a tense semi-final against Bowdon the game was tied 1-1 after a late equalising goal from Archie. It then went to a tense penalty shoot keeper Hugo Mafarni made two great saves. Morris Green and Scott Brown then calmly converted their penalty strokes to send Edge into the final.
Their younger counterparts, the U10 boys, were also in action on Sunday competing in the In2Hockey Cheshire Cup against some very strong competition. The A team won 3, drew 1 and lost 2 while the Bs won 3 and lost 3. The boys played some great hockey and showed real potential for the future.
Sadly the Ladies 5s, Mens 3s, 6s and 7s and Badgers games on Saturday were all called off as a result of snow on their respective pitches.
Match report by Sue Polley.
Photo: Ladies 3s after securing promotion by johnblphotography.
Tags: