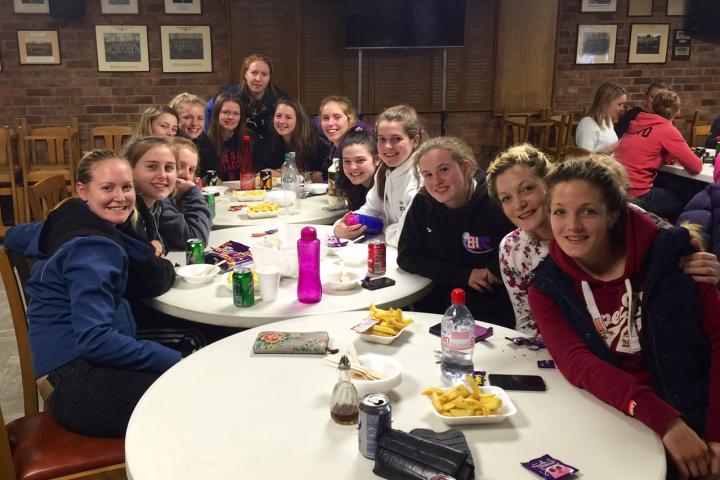 The Ladies 4s was the stand-out team for AEHC this week. Having struggled to initially get a team together, the ladies travelled away to Rhyl to do battle against an experienced side who had not only beaten them 7-1 at the start of the season but who have not dropped a point in the league for the best part of two years! Edge, however, stunned Rhyl with their tenacity, work-rate and persistence and came within 10 minutes of beating them.
Sadly a late equaliser from the home team countered Julia Bewers' first half goal but an amazing performance non the less against the Cheshire league 3 leaders.
The Ladies 1s were drawn away against Midlands division 1 leaders Leamington Spa team in the EHB Investec Trophy on Sunday. The Trophy is a National competition open to top division teams and a strong, collaborative effort and two goals from Annie Hebb earned Edge a very well deserved place in the semi finals – the first time the club has ever progressed past the final 16. Prosecco all round!
The Ladies 2s drew 0-0 with Chester in Cheshire League division 1 which sees them retain third place in the table with a game in hand over top two Sale and Triton. A great defensive performance against a Chester attack was bolstered by one or two first team players but unfortunately the Edge attack didn't quite click. Sophie Fox was player of the match and the whole team get credit for not rising to some challenging comments and behaviour from the spectators.
The 3s convincing 6-2 victory against Crewe Vagrants 2s sees them are back at the head of affairs in division 2. However, second-placed Warrington have a game in hand so the title looks set to go down to the wire. In what was a physical game throughout, Edge took the lead after 10 minutes courtesy of some great work from Tori Blackwell and Nicola Hall. Tori then set up Ellie Ward for a 2 – 0 lead, with Ellie then going on to score a third within another five minutes.
Crewe pulled one back after a fast breakaway before Tori Blackwell was fouled by the Crewe keeper which resulted in a penalty flick for Edge. Katie Hazeldine stepped up to send the ball high over the keeper and into the back of the net. Crewe came back stronger in the second half but Edge kept pushing forward. A classic short corner between Nicola Hall and Emily Fell resulted in Emily sweeping the ball in from a great angle into the goal to make if 5 - 1. Crewe, with another quick break, managed to score another but the final goal of the day again came from Edge's Nicola Hall.
The Ladies 5s earned a much needed and deserved win against Sale 3s in what was essentially a relegation battle match in Cheshire league division 4. Hopefully the result bodes well for their fixture against Lymm 4s next week who are currently 4th in the table.
The Ladies 6s went down 4-0 to a Brooklands Poynton 4s team which was bolstered by several of their third team players.
The Mens 1s welcomed back a number of players for their North Premier League home game against title chasing Brooklands. A far more spirited and competitive game than in previous weeks saw Brooklands run out 4-2 winners. The men take on Formby, currently two places ahead of them in the league, next week.
The men's 2s played two crucial away games this weekend with the incentive of moving to the top of the table in a very close title race in North division 2. First up was West Derby on Saturday which was eventually won 4-2. Man of the match Matt Hardy scored Alderley's first two goals, Joe Coxon scored the third goal with an accurate reverse stick shot and the final goal came from a coolly taken penalty flick from Khalid Sawas which was awarded after a powerful Chris Hardy penalty corner was stopped on the line by a defenders foot.
On Sunday they travelled to Windermere. The teams' last fixture had resulted in a draw and Windermere started strongly, adopting a simple tactic of throwing aerial balls to their speedy forward players. This resulted in them taking the lead and although Alderley then worked their way into the game and created numerous chances, a combination of poor finishing and good goal keeping meant Edge found themselves behind at half time.
Joe Coxon added two goals to his one from Saturday in the second half but, unfortunately, Windermere then converted a short corner with a strike which Alderley felt was too high but which was eventually awarded by the umpires to take the score to 2-2.
With time running out, Alderley desperately searched for the winner and up stepped the youngest and oldest men on the pitch to provide it. Firstly young Sam Buckingham showed compose and skill when bearing down on goal to win a crucial short corner. Fittingly the ball found its way to captain Julian Scarsbrook who calmly struck the ball into the goal to hand Alderley a 3-2 victory.
The team now has everything to play for in their bid for promotion – they sit two points clear at the head of the table with three games left to play, including next Saturday's local derby against Wilmslow 1s.
The Mens 3s extended their lead at the top of North West division 4 with a 4-2 win over Neston South Wirral Mens 2. In the same league, a cobbled together but tenacious and determined Mens 4s emerged 2-0 victors against a physical and frustrated Winnington Park 2s.
A workmanlike performance from the Mens 5s resulted in a 3-1 win for against Timperley at the Edge with two goals for Andy Walker and one for Chris Sinton. Although a win is a win, Edge acknowledged that they will need to play much better in their remaining matches if they are secure promotion out of North West division 5.
Alderley Edge Beavers had a great day away at Bolton. Despite some good defending from Bolton and their man of the match goal keeper, Edge won 6-0. The boys all played well with Archie Benton and Michael Rushton scoring two goals each while Scott Brown and Connor Archer each netted one.
Not to be outdone by the boys, the U14 girl cleaned up at the GMJHL U15 competition at Timperley on Sunday winning all four of their matches to put them top of the league with one more round robin leg to go.
Photo: Ladies 1s relaxing after their match.
Match report by Sue Polley.
Tags: