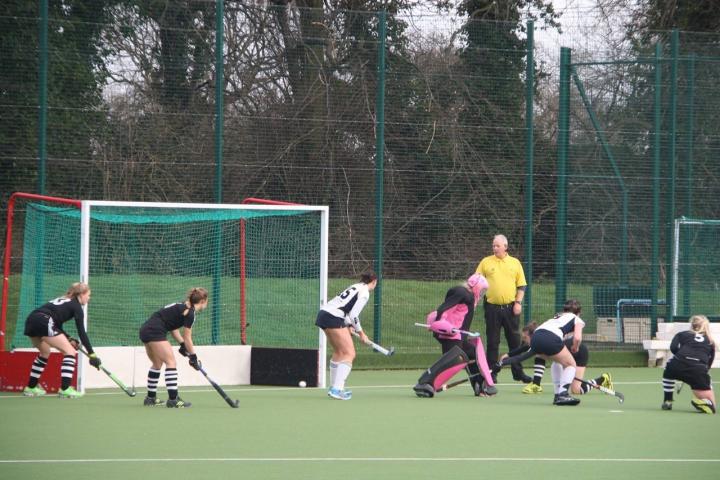 Driving rain fails to dampen Alderley Edge's performances as both Mens and Ladies teams deliver some fantastic results over the weekend.
The Ladies 1s had an emphatic win at the Edge on Saturday, beating Manchester Moss Park 12:0 to stay eight points ahead of Wilmslow at the top of the North West league division 2. Alderley delivered a brand of hockey that was simply too quick and energetic for the Manchester opposition.
On Sunday, they beat Shrewsbury 2-0 in the England Hockey Trophy. First half goals from Sarah Hopkin and Issy Reynolds-Duffy saw Edge through to the quarter finals and a step closer to a coveted place in the Finals at Lee Valley Stadium. In the meantime, the ladies now look forward to their third match in four days when they face Wrexham in the league at 8pm on Tuesday at the Edge.
The Ladies 2s also had a busy weekend. On Saturday they put on a fantastic attacking display to blitz Winnington Park 6-2. Winnington had beaten Edge earlier in the season and the game was fiercely contested in the first half. Julia Tennant opened the scoring after brilliant work from Jess Clitheroe, but Park then came back and scored twice. Edge dominated the second half and scored another 4 - this win which sees them now only two points behind Triton Ladies for 2nd place in Cheshire Womens league 1.
On Sunday the Ladies made it through to last eight of England Hockey 2's Plate courtesy of a 2-1 win against a Lymm 2s who were significantly stronger than when Edge beat them in the league earlier in the season. Lymm started stronger and it was slightly against the run of play when Jess Clitheroe deflected a Jude Offer shot past the Lymm keeper after 10 minutes. Lymm again started the second half strongly but the Edge defence was outstanding, as was Cat Parry in goal. Ironically, the pressure had eased when Lymm broke away after an Edge attack and scored. Edge flooded back and thoroughly earned their winner when Ellie Burns scored with a precise strike from a short corner.
A resounding 3-0 win for the Ladies 3s at home against Brooklands Poynton ladies 3s keeps Edge two points clear at the top of the table in Cheshire Womens league Division 2. Edge played with purpose and passed the ball well. A fabulous goal from Tori Blackwell after 26 minutes broke the deadlock. The second goal came after 13 minutes of the second half when Ellie Ward scored from a short corner with Nicola Hall later netting Edge's third.
The Ladies 4s trounced Bowden 5s 5-0, courtesy of two goals apiece for Katie Roberts and Bethany Woodhead and one from Issy Broadhurst in Cheshire Women's league Division 3. The Ladies 6s enjoyed a great game against Crewe and were unlucky to come away with a 2-1 defeat.
The Mens 1s lost 3-1 to a strong Bowden 2s side in the North Premier League but retain their 6th place in the table.
The Men's 3s produced another dominant display to beat Bowdon 4s by 7 goals to 1 to further consolidate their position at the top of North West league Division 4. Edward Fluck scored a hat-trick with the other goals coming from Jake Rothwell (2), Chris Ashton and Oli Wildig.
The Mens 4s were away at Oxton 3s in North West division 4 with only four of their regular players. Some lovely passing hockey in the first half saw a 1-1 score at half time. Sadly the second half saw some awful weather and the Alderley players began to tire. The game ended 3-1 to Oxton, largely down to them having a larger and more experienced squad. All players performed well but keeper Dan Jones deserves recognition for a phenomenal game.
The Mens 5s sought their revenge against Oxton with a thumping 8-1 win at the Edge. Andy Walker scored a phenomenal 7 goals taking his seasons total to 49. Rob Marks got the other. The win takes Edge into third place in North West division 5, just four points behind 2nd place Triton with two games in hand. All to play for!
The Men's 8s, which comprised several young players, had a great day winning their first match of the season yesterday 5-1 against Bowdon 7s.
The boys U14 Cup squad were also in winning form beating Deeside 4-2 on Sunday and earned themselves a place in the region phase of the England Hockey National Cup competition in the process.
The U14 Development League squad demonstrated fantastic teamwork in their three 7-aside games against strong and organised oppositions, Playing at a fast pace throughout, they came away with a draw and two wins and shoed great potential for the future.
The Mens 2s, 7s and Ladies 5s matches fell victim to the elements and were cancelled due to flooded pitches.
Guest post by Sue Polley.
Tags: