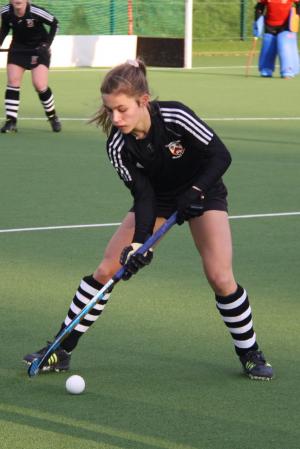 Alderley Edge Women's teams had a remarkable set of results on Saturday with all six teams winning their matches.
Pride of place went to the Women's 1st team extending their 100% winning league run to nine games beating Wrexham 5-0. Goal scorers were Sarah Hopkin with two penalty corners, Amanda Bennison, Issy Reynolds-Duffy and Claire Robinson.
The Wrexham 'Twittter' page summed up the Edge performance 'a very talented and organised team'.
Edge have games in hand and play next on Tuesday evening at The Edge Hockey Centre under floodlights, 7:30pm pushback against Urmston. A win will see Edge top the league.
Alderley Women's 2nd team were 1-0 winners against Macclesfield 1st team. Judith Offer scoring on her return from a broken elbow. Edge battled hard to breach a determined Macclesfield defence in a match played in atrocious rainy weather.
The Women's 3rd team beat Macclesfield 2nd team 1-0. A super first half performance with accurate passing and purposeful running off the ball creating good chances. After half an hour of play Alderley broke the deadlock with a lovely goal from Nicola Hall. After the break Alderley started to run with the ball too much and Macclesfield edged back into the game. Player of the match was awarded to Emily Fell. Another three well earned points and Alderley 3s stay in third place. Next week sees Edge play the league leaders in what should be a thrilling contest.
The Women's 4th team at last gained a fair reward for their consistently good play. A great 2-1 win vs Northop Hall 2s, a tough experienced side. They played some lovely passing hockey in Noah's Ark biblical rainy conditions. Two goals from Julia Bewers, including a penalty corner right on the final whistle. Expect to see this team improve as the season goes on and aim to finish above mid table, exactly what a development side should do.
The Women's 5th bounced back from a frustrating late loss last week with a 6-0 win against Triton 3rds. The 6th team enjoyed a fine winning day 3-2 against Macclesfield 4ths.
Alderley Men's 1st team saw off City of York 4-2 in the Northern Premier division.
James Warburton opened the scoring with a smart turn and shot. Ben Gregory added the second with a back post finish following a redirected penalty corner routine. York pulled one back when a player slipped through the Edge defence to finish on the run. Alderley made it 3-1 when James Warburton gained the slightest touch on Angus McCormick's penalty corner drag flick. Sam Gregory made it 4-1 with a simple finish following good work from young Harry Whitehead who picked up a rebound off the keeper. Half time score 4-1.
Ciaran Sanders linked play and was impressive throughout. It was a good team performance and if second half chances had been put away the score would have been even more convincing. Simon Parr went close following Ben Gregory's solo run. York rallied in the second half and got one back scoring off a rebound from an initial James Riley save.
Alderley Men's 2nds put in a very professional performance winning 4-0 away at Crewe, particularly considering the weather conditions and a changed midfield line up. They took the lead with a rapid breakaway goal from Joe Coxon. Man of the match Olly Parker soon doubled the lead and Alderley went into half time, in control, leading 2-0. Alderley's tackling was outstanding in the 2nd half and following a broken down Crewe attack Chris Hardy smashed a long ball to the high forwards and neat interplay resulted in a goal for Jack Smith. Parker got his 2nd and Alderley's 4th towards the end and the match to round off a fine victory.
No match for the Men's 3rd team this week and the 4th went down to a strong Colwyn Bay 2nd team 7-0. Morgan Jennings sustained a broken shoulder and everyone wishes him a speedy recovery.
The Mens 5ths fought hard for a 6-4 win against high flying Runcorn 1st team. Runcorn scored first and both teams exchanged goals to make it 3-3. Edge went behind 4-3 shortly into the second half, but then turned it around scoring 3 goals without reply. Andy Walker on target yet again, scored 4 more goals and Alisdair Smith chipped in with two.
The 6ths found the fast legs of Keele University too much going down 9-1 whilst the 7th drew 0-0 with Runcorn 2nds.
On Sunday the Edge girls under 18's travelled to Yorkshire to play Thirsk in the EHB under 18 girls plate. 3-1 up at half time Edge cruised to a 7-1 lead and an 8-2 victory. Issa Reynolds-Duffy and Lily Wolstenholme caused havoc in the Thirsk defence. 4 goals for Lily, 3 for Jess Clitheroe and one for Saskia Swatland. The Thirsk keeper performed heroics with Edge and did well to restrict Alderley to 8 goals.
The Women's 0' 35 Masters team, with a good number of 'Back To Hockey' Mums, went down in an enjoyable match away at Didsbury Northern 8-3. The score rather flattered Didsbury. Edge pulled back a two goal deficit to be level midway through the second half. A Judith Offer penalty corner and Min Hedley firing home at the far post after a classy passing move down the right. Didsbury then ran in three quick goals to take control before Judith Offer beat 5 players to score Alderley's 3rd goal.
Photo: Issy Reynolds-Duffy from the Women's 1st team.
Match report by Kelvin Briggs.
Tags: