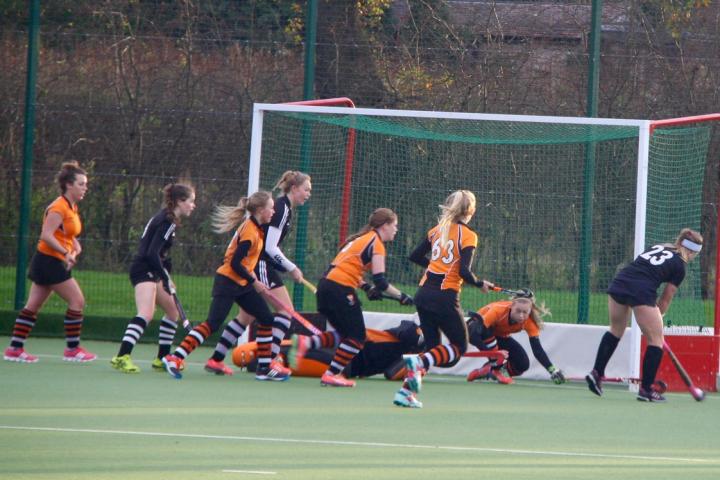 Alderley Edge Women's 1st team remain unbeaten in all games this season. On Sunday they beat local rivals Wilmslow 3-1 to progress to the last 16 of the EHB Invested knockout Trophy competition. A home tie awaits on 7th February 2016, against either Burton or Shrewsbury.
In front of a large crowd, Edge started brightly exploiting the width down the right to create many circle entries, a lot of pressure and numerous penalty corner awards. Three resulting goals from slick routines in the first 20 minutes put Edge firmly in control. Scorers were 'Player of the Match' Sarah Hopkin, Amanda Bennison and Anna Perry.
Sarah Hopkin dominated the midfield battle winning the ball and distributing brilliantly to players in wide positions who then attacked the baseline. Amanda Bennison and Jenni Park played great supporting midfield roles regularly winning ball with skilful tackles and starting up new attacks.
The match was a real contrast in styles with Wilmslow packing the midfield and playing long balls from the back whilst Alderley transferred the ball wide, had players running in to high positions and exploited wide space.
Wilmslow were penned back for most of the first half and Edge missed a number of scoring opportunities, denied by Catriona Lang in the Wilmslow goal who made some super saves.
Just before half time Wilmslow got back in to the game and scored following a good attack down the right and some missed Edge tackles. This spurred Wilmslow on and Harriet Whittaker in the Alderley goal was alert to make a fine double save from a penalty corner to keep the 3-1 lead in tact.
The second half saw Edge continue to spread the ball wide and get behind the deep lying Wilmslow defence. More missed chances and Lang's outstanding saves kept the score 3-1 to Alderley.
Edge will be delighted with the home draw in the next round but have promotion as the absolute number one target.
It was a 'Super Sunday' for Edge with great wins for the Boys Under 18's beating Brooklands 5-0, going through to the next round of the EHB Plate, a fine hat trick from Robin Laughton the highlight of a superb team performance.
The Boys U16 were worthy 6-1 winners away at Timperley in the EHB League and look set to progress to the North finals along with the girls Under 14's who are through for sure, overcoming Deeside away 5-1 to top and win the group.
Alderley Edge Women's 1st team had their Saturday morning match away at Urmston cancelled. The overnight chilly temperatures froze the Urmston pitch. Edge retain their 100% win record and now have two games in hand on new league leaders Wilmslow.
The Edge Women's 2nd team were able to play the home match against Oxton 1st team and were comfortable 3-1 winners. This lifts Alderley to 3rd in the Cheshire Women's League Division 1. Fast attacking, decisive lead runs upfront, clean passing and great defence were the key factors in this thoroughly deserved victory. 2-0 up at half time with goals from Julia Tennant and Sarah Stretton. Second half Oxton defended in numbers with at least 8 behind the ball but Jess Clitheroe scored a great third to seal victory. Particular shout out to young Edge goalkeeper Natalie Stevens for a fantastic save in a rare 'one on one' breakaway but otherwise the entire second period was played in Oxton's half.
The Women's 3rd team had a resounding 5-2 win beating Bebbington 1st team 5-2 and rise to third place in Cheshire division 2. Nicola Hall opened the Edge account with a goal after 9 minutes. With Bebbington unable to get the ball out of their own half, Tori Blackwell doubled the lead to make it 2 - 0 after 15 mins. Within 5 minutes Bebbington attacked and were awarded a penalty corner which they converted making it 2 - 1. Edge were soon back on the attack and Ellie Ward put the ball beyond the keepers reach to give Edge a 3 - 1 lead at half time.
After the break Bebbington started to challenge more but were easily broken down by good defending. Ellie Ward got her second goal after some great passing moves in the D to increase the lead to 4-1. Bebbington scored from another penalty corner to make it 4 - 2. Not prepared to sit on their laurels, Alderley finished the afternoon off with Nicola Hall scoring a second making it a fine 5 - 2 win.
A great team performance again with players linking well together in all parts of the pitch. Bebbington awarded 'Player of the Match to youngster Caitlin Polley for excellent work in midfield and some decisive runs through the Bebbington defence.
Alderley Edge Women's 4th team again had a very close match and were unlucky to lose 2-1 to Timperley 4ths. Despite dominating the first half they went in 0-0 at half time. Finally they scored but then tired in last 15 minutes and Timperley scored twice. Very harsh result, they deserved a draw as a minimum.
The Women's 5th team lost 2-1 at Oxton 2nds. Edge took an early lead through Jane Ashworth and led for most of the game. Oxton equalised with a rather scrappy goal. Undeterred, Alderley kept attacking and thought they had scored again only for play to be brought back for a penalty corner for Alderley. This rather unsettled Alderley's composure and they conceded a goal in the final seconds.
The Women's 6th team drew 1-1 away at Oxton 3rd's. 'Back to Hockey' regular Min Hedley opened the scoring. Edge dominated play but were pegged back just before half time. Becky West was voted 'Player of the Match.'
Alderley Edge Mens 1st team went down 5-3 to Brooklands. 2-0 down after 5 minutes conceding 2 penalty strokes, it was always an uphill struggle after that disastrous start. Edge Scorers were Sam Gregory, Adam Wildig and McCormick.
Edge Mens 2nd team had a great 3-1 home win against West Derby 1st team. This was another top of the table clash, West Derby came to The Edge with both teams on the same amount of points.
Alderley dominated possession and took an early lead after 2 minutes with a Nic Sims penalty corner. West Derby came back into the game and levelled the score but another Sims penalty corner saw Alderley up 2-1 at half time. Alderley were wasteful in the circle in the second half and should have been several goals up but West Derby survived and remained in the game.
The result was finally made safe when Capt. Julian Scarsbrook scored his annual goal at anothe corner to secure three points and take the side into 2nd place in the league just in string distance behind Wilmslow 1st team.
Mens 3rd team are running away with North west league Div 4. Alderley 3s travelled to Neston and took an early 2 nil lead with close range finishes from Hashim Dadah and Matt Hardy. Neston pulled one back through a penalty corner just before half time but some choice words at half time rallied the troops into a better second half performance scoring 4 unanswered goals through Chris Hardy, Ed Fluck (2) and Hashim Dadah.
The frozen pitch meant the Men's 4th team game was postponed whilst the mighty 5th enjoyed a 10 -1 win at Timperley 4th's despite starting with just 10 players. 8 goals from Andy Walker was the highlight.
The Mens 6th remain in serious danger of relegation losing 2-0 at Timperley 5ths. The Men's 7ths game was sadly frozen off.
Photo: Amanda Bennison scores.
Match report by Kelvin Briggs.
Tags: