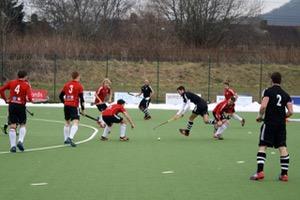 Alderley Edge's first home game of the season came against title hopefuls Whitley Bay.
Needing a good result to bounce back from the disappointment of the opening day defeat to Sheffield Bankers, Alderley had the perfect start. With 3 goals coming within the first 15 minutes from Sanders, Vickers and Gregory, it looked like it would be plain sailing.
However, Whitley Bay responded with 3 goals of their own to leave the scores level at half time.
With the tide of the match turning Whitley Bay began the second half the stronger and despite chances for both the game remained level. With around 10 minutes to go Whitley Bay managed to convert one of their chances to take the lead. Despite their only being 10 minutes to pay Alderley rallied together to try to get a goal back, and with 5 minutes to go Andy Power picked up a loose ball outside the D before beating several Whitley Bay players and the goalkeeper to calmly stroke the ball into the net.
Alderley continued to press and were rewarded with a penalty stroke when Sanders was fouled by the goalkeeper in the D. Power stepped up and completed the comeback. A great performance from the team and will hopefully provide a launch pad for the season.
Throughout the rest of the club there was a win for the 2nd team with a hatrick from Nick Sims, a 9-0 win for the 3rd team against Macclesfield. The 4th XI drew with Deeside having been ahead until the last minute. The 5th, 6th and 7th teams all won with the 6s playing with only 10 men. The 8th XI suffered a defeat to Sandbach, though they did end up playing with 8 players due to injuries.
Match report by Ben Whitehead.
Tags: