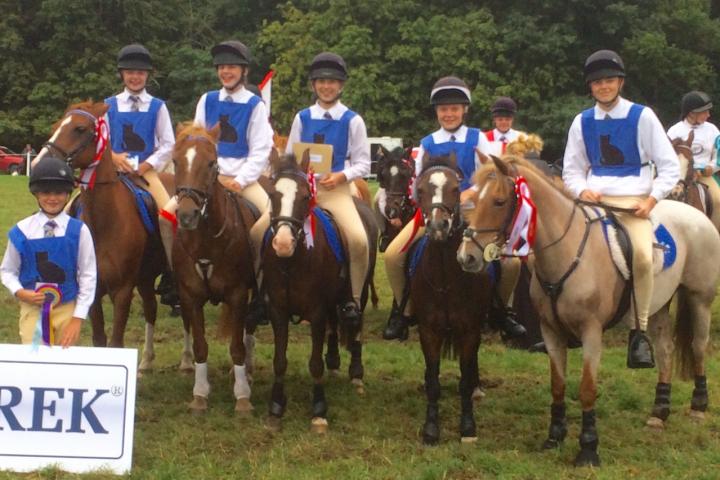 A keen horse rider from Alderley Edge is off to Birmingham next week to compete at the Horse Of The Year Show at the NEC.
Amelia Pearson, 14, of Green Lane has been a member of The East Cheshire Branch of The Pony Club for eight years and of the Mounted Games Team for seven years. Having never qualified for the Horse Of The Year Show before, the club is now in the final six out of approximately 250 teams nationwide and competing for the prestigious Prince Philip Cup.
Amelia, who was 5 when she started to ride, will travel down to Birmingham with her teammates on Monday, 5th October, to give them time to get their ponies settled into the stables. She will then get the chance to practise with her pony Willow in the international arena on Tuesday before the competition starts on Wednesday, 7th October.
Amelia's mother Heather explained "They will compete twice a day in the international arena and will be given approximately six games each session from a long list of games they have been given to practice, collecting points as they go. Then on the Sunday evening it is the final and the top 4 highest scoring teams compete on double points. The winner of the Prince Philip Cup will be the team with the most points."
Heather added "There is another trophy on offer which is for stable management so stables, the tack room, ponies and children must be clean and tidy at all times."
Amelia, who will competing with her Cheshire teammates against teams from Yorkshire, South Wales, Kent and two teams from Scotland, said "I am so excited I cannot wait."
Photo: Amelia is third from the left with her pony Willow and fellow team members Mary Goodridge, Jenna Cairns, Emma Walton, Will Walton and Polly Walton stood at the front.
Tags: