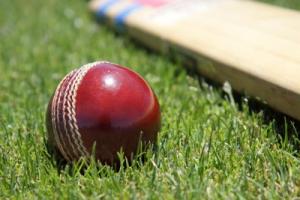 At the end of a "summer" that has been regularly permeated by rain, it was perhaps almost fitting that Alderley Edge 1st XI's final match, at Bowdon, should be washed out by a violent downpour minutes before the start which turned the pitch into a sea of mud.
Alderley nevertheless finished 4th in the highly competitive Cheshire County League Premier Division, a great effort from captain Adam Worrall and his players.
The 2nd XI did manage to play, and comfortably defeated Urmston by 7 wickets. Dan Fesmer and Mark Warnes added to their already prolific wicket tallies with 5 victims each as Urmston were bowled out for 108, a target Alderley made short work of overhauling with Ed Fluck and Ollie Hall both finishing with unbeaten scores of 37. The 2nds also achieved a top 4 finish, a credit to the efforts of captain Jon Usher.
With Chris Smith's 3rd XI winning a second successive league title and earning promotion to the Premier Division, at the awards ceremony to close the season, chairman Andy Fluck commented on an extremely successful season for the club. Main award winners were Alan Day (1st XI batting), Calum Rowe (1st XI averages), Sean Sturrock (1st XI bowling), Adam Wildig (2nd XI batting), Mark Warnes (2nd XI bowling), Angus Muir (3rd XI batting) and Henry Scanlon (3rd XI bowling).
Mr Fluck ended on a note of great optimism, stating how the club was looking forward to an even more successful season in 2016.
Report by Rick Davis.