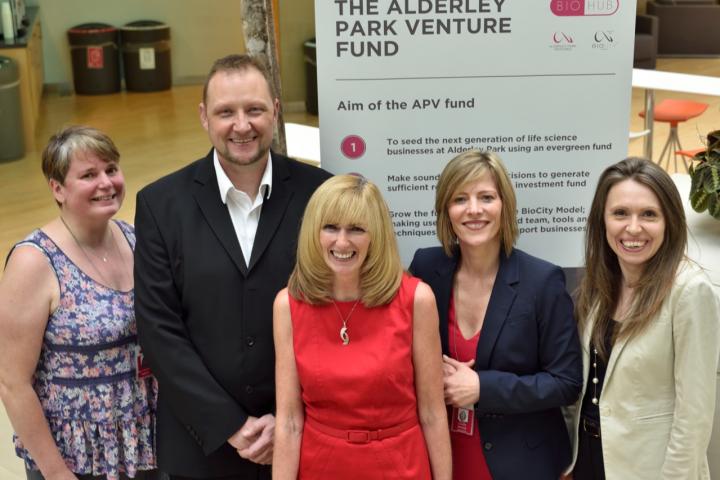 Alderley Park Ventures, an investment fund created in late 2014 following a significant contribution by AstraZeneca and managed by BioCity, has announced its first investment - a £200,000 equity investment into Alderley Analytical.
The investment was made together with The North West Fund for Biomedical, managed by SPARK Impact, who also invested a further £100,000.
The £5 million fund was created in December 2014 to make equity investments, typically between £50,000 and £500,000, in life science companies based at BioHub on the Alderley Park site.
Alderley Analytical provides bioanalytical services to support the development of small and large molecule therapeutics, generics and biomarkers in all stages of the drug development process, from discovery to post launch marketing.
Speaking at the fund's launch, BioCity chairman Dr Louis Nisbet advised that "It is likely that many of the investments will be made in businesses with which the BioCity team and our advisors have worked closely, or are well known through the BioHub. Life sciences companies relocating to the area will also be considered."
That has been borne out by this first investment. Alderley Analytical is a "cornerstone" tenant at BioHub and was also one of the first companies to access Biocity's business support programmes.
Claire Brown, Investment manager of Alderley Park Ventures said "This is our first investment from the fund and also the first round of investment for Alderley Analytical, (so we are talking about true seed funding). In just two short years, the company has been able to achieve GCP & GLP Accreditation and gain MHRA approval. In addition it has grown its analytical capability with state of the art technology while building a pipeline of clients and collaborators from across the world.
"This sector has seen significant consolidation in recent years, leaving a gap for a flexible group that can offer high quality bioanalysis support together with outstanding customer service. Alderley Analytical is perfectly positioned to serve this niche."
Liz Thomas, CEO of Alderley Analytical, set up the company with three colleagues in January 2014. They moved into a laboratory in the BioHub at Alderley Park in February 2014 and they are now a group of 6 scientists, hoping to be a group of 10 scientists by the end of 2016.
Liz said "We are delighted to receive this investment from APV and SPARK Impact and it presents Alderley Analytical with some real opportunities to grow. It will allow us to increase our marketing and business development activities and grow our customer base.
"In addition, we can also recruit new staff, purchase a Laboratory Information Management System (LIMS), lease additional state of the art LC-MS/MS equipment and increase our service offerings – all of these being essential to provide our customers with a first class service and to support the bioanalysis from large clinical trials."
The BioHub at Alderley Park now consists of 121 companies of which 30 are based at the site and employ 429 people. They also have 81 are virtual tenants and 10 corporate partners.
Photo: Sally Hannam (Director of Science) , Paul Holme (Director of Operations), Elizabeth Thomas (CEO), Claire Brown (Alderley Park Ventures), Claire Ayre (Director of Projects).
Tags: