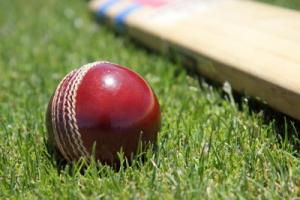 Alderley Edge 1st XI played out probably their most exciting encounter of the season at Nantwich on Saturday, only to suffer the narrowest of defeats – by one wicket in the final over!
Put into bat, Alderley amassed a respectable 232-9 from their 55 overs, top scorer being the ultra-consistent Alan Day whose score of 87 was the 9th time he has passed 50 this season. Richard Wilkinson, Adam Worrall and, with some lusty late hitting, Sean Sturrock all provided useful support, although the middle order contributed little.
Nantwich's run chase really centred around just one man, their Cheshire star Ryan Brown, a challenge he rose to admirably, particularly when the second half of their batting order crumbled around him. Brown scored a superb 107 not out, including eight sixes, and with a young number 11 batsman at the other end, hit the first two balls of the final over for 6 and 4 to seal victory for the home team.
Alderley will have been pleased, despite their disappointment, to see Australian spinner Sean Sturrock return to his best form with a 5-wicket haul. However, they will feel that two main reasons for the defeat were that Nantwich's experienced and skilful seam attack of Warrington and Syddall extracted more from the pitch than Alderley's seamers, and also that Nantwich – and Brown in particular – targeted the very short leg-side boundary from one end much more effectively.
It was a mixed weekend for the 2nd XI. A 4-wicket victory over Stockport on Saturday greatly eased their relegation fears, Stockport's modest score of 146 all out resulting from a marvellous spell of 5-29 from occasional off-spinner David Johnson. Oliver Wildig top-scored with 31 in reply as Alderley won with 9 overs to spare.
On Sunday Alderley found league leaders Chester Boughton Hall just too strong in the semi-final of the T20 competition, being bowled out for 120 in reply to the opposition's score of 144 from 20 overs, but the team performed with great credit. The 3rd XI were far too powerful for a young Sandbach team who were bowled out for 38, James Bowyer being the chief destroyer with 3 for 7, a score Alderley knocked off for the loss of 2 wickets in just 10 overs.
Match report by Rick Davis.