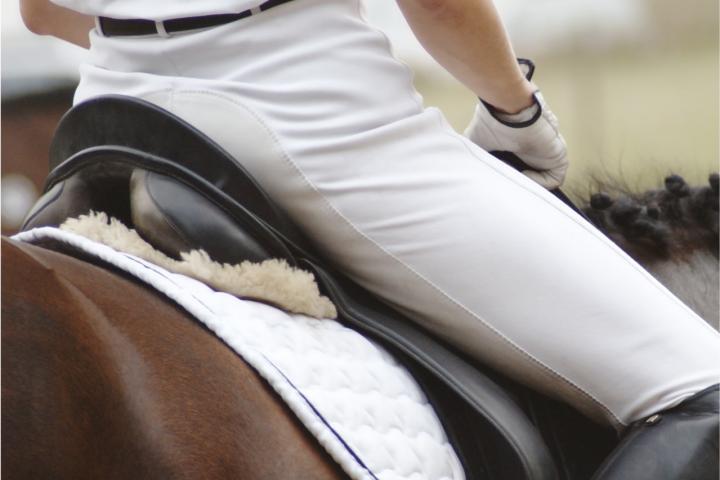 Promotional Feature
Physiofit in Alderley Edge is delighted to announce the launch of its Physiofit for horse riders programme. A unique programme of physiotherapy for horse riders by people who understand horses. When our horse is injured we tend to rest them and get treatment for them immediately. When we fall or injure ourselves, we just get back on the horse and hope it goes away often causing problems not only for ourselves but also for the horse.
Physiofit's specially trained physio, Emma Wellard performs assessments aimed at identifying how the rider moves both on and off the horse. We first examine the riders riding position, posture, balance and alignment on their horse through digital photos and video footage. We also perform a physical assessment of the rider off the horse to look at flexibility, core stability, balance, strength and movement patterns.
From this we can devise a treatment and exercise programme to correct any areas of weakness and restrictions allowing you to ride more effectively and achieve better performance for you and your horse. Restrictions in your body can manifest itself in your horse creating injuries for the horse as well as yourself.
Emma is a keen horse rider herself and has attended a number of specific training course on muscle imbalances which affect rider performance. The most recent course she attended was "probably the most exciting and stimulating of them all".
The course was run last weekend by Tom Nagel who is a famous rider seat trainer who travels extensively across the USA and Europe where he works with many well- known trainers to help their clients achieve that holy grail of equestrianism, the Independent Seat. Tom uses his understanding of the biomechanics of the human body to make profound changes to riders in an amazingly short time.
Emma said of the course "The inspirational course by Tom Nagel aimed at improving the riders seat did not disappoint. The perfect seat really does exist! The combination of land based exercises, riding exercises and breathing techniques taught on the course, really do help to improve both rider and horse performance. What I gained from the course, fitted in really well with the way I currently work with horse riders and I am excited about applying what I have learnt.
Emma is keen to share her knowledge on riding and physiotherapy with you to make a real difference to your riding experience. Emma treats riders who have an injury, those looking to prevent injury and to improve rider and horse performance. Emma has devised a number of physiotherapy packages to suit all. Please do ring the clinic for details.
Angie Jackson clinic director said that "I am really excited about our new programme, it is a perfect fit to our other specialist sport programmes and it allows Emma to combine her passion and experience for riding with her extensive physio knowledge."
Part of the role of being a specialised clinic is to hold workshops for horse riders, clubs and stables to help and educate them on some of these important techniques.
Physiofit, establish over 22 years ago, has a long pedigree in working with athletes from all sports and in particular working with all ages.
For further details and to book an appointment or find about horse riding packages please do call the Physiofit reception on 01625 590444 or visit the website.
Tags: