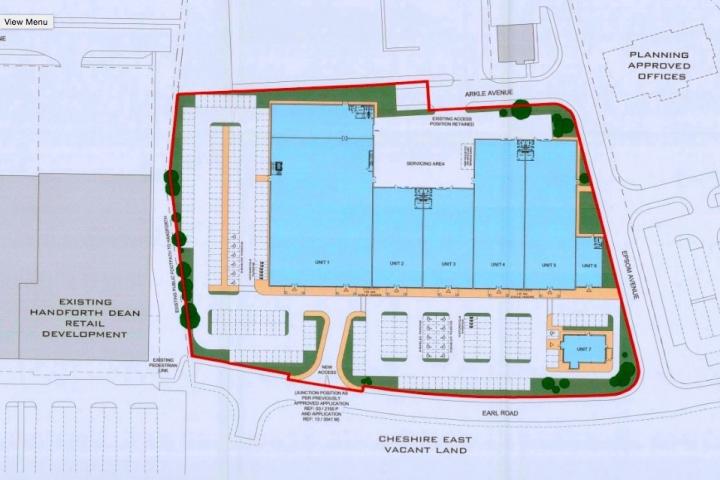 Orbit Developments has submitted a planning application for a new retail development adjacent to the existing Handforth Dean retail park which consists of Marks and Spencer, Tesco and British Home Store.
The scheme includes the demolition of existing buildings and erection of a parade of five units along with a standalone single drive thru unit. The proposal is for five units to be used for Class A1 (non-food retail) purposes and two units to be used for Class A1 and/or Class A3 (restaurant and cafe) and/or Class A5 (hot food takeaway).
Additionally a car park containing 240 spaces would be created along with new entrance off Earl Road.
The site currently contains a large warehouse and smaller office building, built in the 1970s, and scrubland. To the west it is bounded by the John Lewis distribution centre and to the east is the vacant Council owned land which Cheshire East is currently trying to sell - NEXT has been granted planning permission for a home and garden superstore on part of this adjacent site.
Planning permission has previously been granted for the demolition of the existing buildings and replacement with two office blocks but this has not come to fruition due to a lack of demand and plentiful supply in the local area.
The planning application can be viewed on the Cheshire East Council website by searching for planning reference 15/0400M. The deadline for submitting comments is 12th March and a decision is expected to be made by 24th April.
The application is scheduled to be considered by the Northern Planning Committee at their meeting on April 1st.