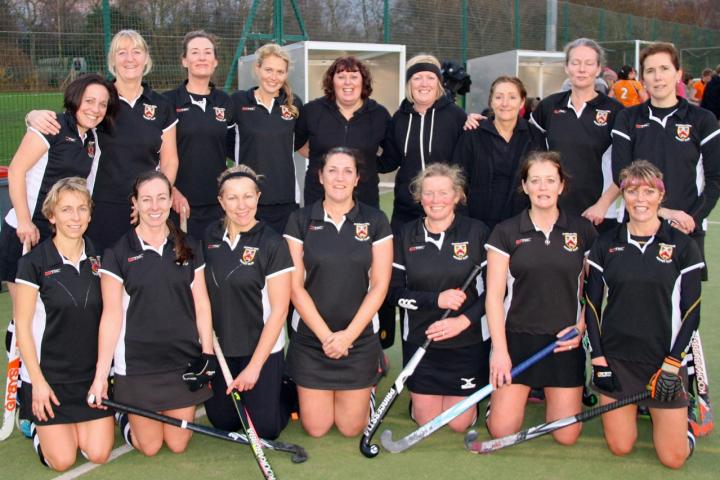 The weekend saw a fantastic 7-3 victory from the impressive Alderley Ladies 1st team against Urmston. Edge were in charge right from the off, and soon took the lead when Lily Wolstenholme passed to Jenni Park who finished well.
Urmston then responded by pouring forward, and caught Alderley by surprise with a quick equaliser. But Edge stayed calm, and began to rebuild. They retook the lead when Georgie Park netted from Saskia Swatland's cross. Jenni Park made it 3-1 when she made a driving run and finished it with an outstanding goal. Anna Perry then did well to deflect in Claire Robinson's shot, making the score a comfortable 4-1 at half time.
Edge continued their momentum into the second half, and soon won a penalty corner which Lily Wolstenholme scored from the top of the D. Alderley's intensity then dropped somewhat, and Urmston scored 2 goals on the break to make it 5-3. This refocused Edge, who reasserted their dominance through Lily Wolstenholme's neat reverse stick goal. Lily Wolstenholme then completed her hatrick when she finished from Jenni Park's pass. Edge remain 2nd in the North league 2 South-West division table.
The Edge Ladies 2nd team were unlucky to lose 6-1 to Winnington Park Ladies 1s. Winnington had a very experienced and skilful attack who took Alderley by surprise with 2 early goals. Edge then grew into the game and began creating some chances of their own, however they were again hit twice on the break by Winnington's impressive attack meaning they were 4-0 at half time.
The second half was a very different story, with Alderley having most of the play and coming very close through Vicky Alexander. Jess Clitheroe then scored an outstanding individual goal on the break to give Edge the goal that they deserved. Two further goals from Winnington made the score line somewhat harsh on Edge, who performed well against some very tough opposition, especially with the second half score only 2-1.
The weekend saw a goalless draw between the Alderley Ladies 3s and Golborne Ladies 1st team. Edge dominated most of the game, and were very unlucky not to convert some of their chances. Katie Haszeldine had a goal disallowed from a short corner for being just too high.
The Edge Ladies 4th team performed outstandingly at the weekend, beating Lymm Ladies 4th team 7-1. Alderley were utterly dominant throughout the game, performing some excellent passing moves. Two goals from Nicola Hall followed by two goals from Gemma Garton gave Edge a commanding lead. Nicola Hall then completed her hatrick, finishing well from a short corner. Faye Beaument netted Alderley's sixth before Gemma Garton completed her hatrick to ice the cake of an outstanding Edge performance.
There was also a win for the Alderley Ladies 5s, who came from behind to beat a physical Lymm Ladies 5s 2-1. Lymm took the lead in a balanced first half an hour. This seemed to fire up Alderley who equalised when Karen Sillar netted a brilliant team goal. Edge then really stepped it up in the second half, and fully deserved Verity Wolstencroft's winner after great work from Katie Roberts. Bethany Woodhead was player of the match for a storming second half performance, but the whole team played well.
The Edge Ladies 6s were unlucky to lose 5-0 to Neston Ladies 3rd team. Neston were a very well-drilled team, and Alderley put in a respectable performance, doing well to not let their heads drop.
On Sunday the Ladies O'35's Master team lost a competitive game 3-0 to an experienced Wilmslow side in the EHB Investec Masters Knockout Trophy. Sue Pett's Ladies enjoyed the game with a number of the clubs new 'Back To Hockey' Ladies having their first ever game for the Club. The Women of the Edge will now play in the EHB Shield Competition.
Match report by Kelvin Briggs.
Photo: Alderley Edge Ladies over 35 Masters team.
Tags: