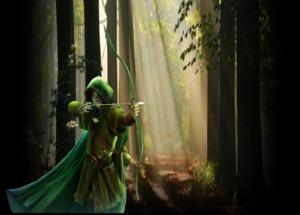 Rehearsals are well underway for Cheshire Youth Pantomime Society's (CHYPS) pantomime Robin Hood. Performances will take place at the Woodford Centre next month.
With a cast and live band made up of some of the most talented 11 – 19 year olds in Cheshire, Robin Hood will be an exciting and magical show for all the family.
Stuart Chapman said "Last year's performance of Aladdin was a huge success and received much praise for the professional standards for the production, scenery and costumes, so much so that we received awards and six nominations for Aladdin including best actor/actress, most original youth production concept.
As a result of last year's success, and in order to cope with the increased demand for tickets, an extra night has been added.
Stuart continued "Robin Hood promises the same high quality production with a wonderful story, great songs and lots of fun delivered in a smaller theatre where you can get closer to the action and feel part of the show."
Tickets are on sale now by calling 07910 187 583 or visiting the CHYPS website.
Performances will be held at the Woodford Centre, Woodford each evening from Tuesday 6th to Saturday 10th January with a matinee performance also available on the Saturday.
Ticket prices start at £8 with special prices for family and group bookings available.