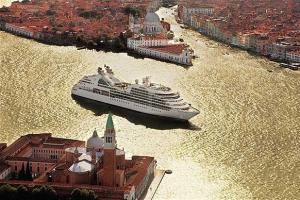 Promotional Feature
On Wednesday 3rd December, between 2pm to 5pm, Travel by Design of Alderley Edge will be hosting a cruise event at their agency in conjunction with Seabourn and Holland America Lines Cruises. Two superb cruise lines offering a luxury cruise experience and some stunning itineraries around the world.
Canada and Alaska, Vietnam, The Panama Canal, South America ....... some places are just perfect for exploring by cruise ship. You can disembark the ship in a different place every day, but you take your 'hotel' with you, for completely hassle free touring and ever changing scenery. We can design an itinerary for you, combining land and cruise arrangements, so that you can explore inland pre and post joining your cruise.
Whether you are new to cruising or a seasoned passenger, come along on Wednesday December 3rd any time between 2pm and 5pm and talk to the experts, both in cruising generally and to find out more about these particular cruise lines. Enjoy a relaxed atmosphere where you are able to ask questions and discover what cruising offers you.
Travel by Design are celebrating our 25th anniversary in 2015 having had 25 years of looking after the travel arrangements for some of the "best minds of Manchester", dealing with four generations of clients. Being a family owned and managed company working in the heart of the village of Alderley Edge, we have witnessed many changes in peoples travel designs.
Let us share our travel stories and journeys with you whether by land, sea or air and Travel by Design not by Chance!!
Our Taste of Travel open days will be a feature of our celebrations next year as we invite our trade partners to share their knowledge with us and our clients, together with some speciality food and drink from their destination country.
Travel by Design, 28 London Road, Alderley Edge, SK9 7 DZ. Tel: 01625 584195. www.travelbydesigngroup.com.
Tags: