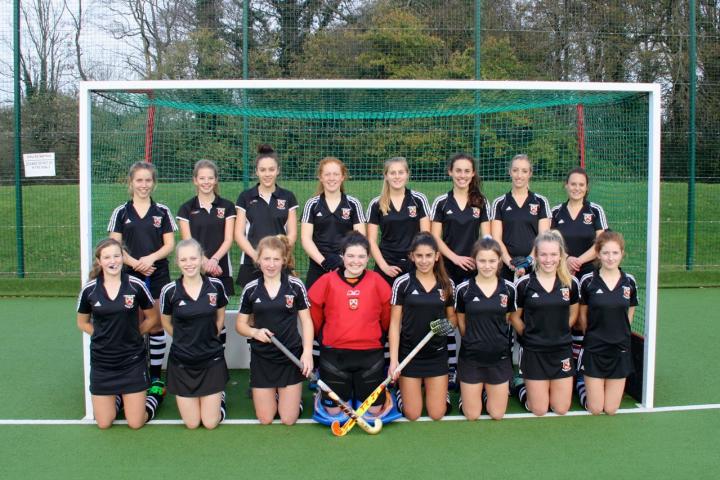 What a perfect weekend for Alderley Edge Hockey Club's Ladies section, who were unbeaten, winning 6 and drawing 1 of their 7 fixtures. The stars of the show were the ever-impressive Alderley Ladies 1st team, who beat Didsbury Northern Ladies 2s 6-0 in an outstanding performance on Saturday and Manchester University on Sunday 4-1.
Edge dominated against Didsbury Northern right from the off, and took the lead through Jenni Park after 10 minutes. Shortly after, Jenni Park doubled both hers and Edge's goal tally when her deflected shot found the back of the net. Alderley then continued to create chances and some slick team passing allowed Lily Wolstenholme to score a reverse stick goal. Saskia Swatland then finished off another flowing team move to make the score 4-0 at half time.
After the break, Didsbury began to create some opportunities, but some fine goalkeeping from Harriet Whittaker ensured the Alderley goal remained intact. Towards the end of the match Anna Perry netted to make the score 5-0 before Jenni Park completed her hat-trick, rounding off another brilliant personal and team performance.
On Sunday Edge came from a goal behind to beat a spirited Manchester University side. Despite constant early pressure and a number of penalty corners, Edge could not make the breakthrough and conceded a goal at a rare University penalty corner. Lily Wolstenholme became a constant thorn in the students side, scoring twice and going close on several occasions. Tor Hughes and Sarah Stretton added further goals to make it a comfortable win.
Saturday also saw an emphatic victory for the Edge Ladies 2nd team, who beat Sale Ladies 2nd team 4-0. Edge started the game the brighter side and enjoyed the lion's share of possession. Towards the end of the first half, Alderley made their dominance pay when Rachel Stoner did well to deflect in Claire Davidson's cross following a neat team build-up. In the second half, Edge became more and more in control, with all of the play in the Sale half. Jazzy Kemp finished well to double Alderley's lead. The game was then put well out of Sale's reach when Claire Davidson finished at the back post and Judith Offer struck from the top of the D to make it 4-0 to Alderley. The win was much deserved following some great performances in recent weeks.
The thirds beat local rivals Wilmslow 2nd team 1-0, with the Alderley Ladies 4s beat Timperley Ladies 5th team 4-0. Two goals from Emily Fell saw Edge take a commanding lead. Argentinian Jennifer Sabbagh then finished well to make it 3-0 before Gabby Marfani netted to add the icing on the cake of a dominant team performance. Special credit to player of the match Becky Steele for a fantastic performance.
There was also a 2-2 draw for the 5ths at Sale and a win for the Alderley Ladies 6s, who beat Neston Ladies 4th team 1-0. Edge were much the better team throughout, with Anna Cusworth's goal proving decisive. The 6th team has a great blend of youth and experience combining to play some very attractive hockey.
This Wednesday at 9:30 am sees the start of a six week Charity 'Booty Camp' fitness programme at The Edge Hockey Centre. It's free for all local ladies to attend and is run by local fitness Instructor Hannah Mills from 'Wedges and Weights'. Ladies are asked to donate a tin of food each time they participate which will be passed on to local charity 'Hampers of Hope' to give to local needy families in the local community at Christmas.
The Hockey club has been very active this season raising funds for Macmillan Nurses with a coffee morning, The Christie Hospital and Cancer Research UK with a hockey tournament and cake sale and hosted an Alderley Oxjam event with Sadie Pickering singing to the 'Back to Hockey' Ladies at The Edge hockey Centre.
Guest post by Kelvin Briggs.
Photo: Alderley Edge Ladies 1st team.
Tags: