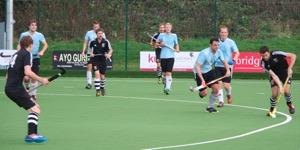 Alderley Edge Men's first team will believe they squandered two points as they were held 1-1 by Gateshead, despite dominating possession. They started off playing the ball round the midfield well, with the returning Badger linking up well with Mattingly. This allowed Parr and Gregory to get on the front foot.
It was Gateshead who had the first clear cut chance when they got around the back but Riley was quick off his line to smother.
Alderley then countered and Ben Gregory broke free down the left but was unable to pick out Wildig with his reverse stick cross. Time and again Alderley put pressure on the Gateshead backline without quite managing to create the golden opportunity. The sides went in level at half time.
The second half was similar as Alderley were tidy but not quite incisive, and they were also unable to make the most of the penalty corners that they won, with defenders clearing off the line and the keeper saving, and it was from an Alderley corner that the first goal came from, as Gateshead picked up the ball in their own D and countered working the ball well to free up a player at the other end who finished well first time.
Alderley then put even more pressure with Sam Gregory firing over crosses and Ciaran Sanders became more influential. Alderley drew level when great individual play from Simon Parr created space for himself to shoot, there was degree of fortune as his shot was drifting well wide and struck a Gateshead player and diverted in.
Alderley thought they had a winner as they converted from close range, but the supporting Umpire correctly spotted a foot in the build up. Ben Gregory was sin-binned for protesting and this allowed Gateshead to mount some attacks and they had their only other foray into the Alderley D, which was saved and cleared. Once back to full capacity Alderley again went for the win, but came up short.
The 2s went to local rivals Bramhall who were on a poor run of form. Alderley put in a thoroughly professional performance and dominated midfield thanks to the combative Cook, Williams and Kay.
They scored two good team goals, one in each half with Oli Wildig in the right positions to finish off fine moves.
It could easily have been more but Bramhall's post man kept out Hardy's corner effort and other half chances came and went. The dominance in the middle of the park was the key and a great team performance saw all three points safely secured.
The 3s had a disappointing 2-0 reverse at home to Neston 2s.
Alderley's 4th team moved up to third place with a well deserved 1-0 win away at Bebington. Thanks to Thomas Jeffris' neat deflection from Allmand-Smith's quick pass. Man of the match was Alex Jones who impressed throughout and will be missed next week when he is away with North U16.
The performance of the day came from the Mens 5th team. Starting with nine men they took the lead against Neston, but were soon pegged back. However playing with courage and conviction throughout they lead 2-1 at half time, both goals courtesy of top scorer Fin Allenby. The play in the second half was remarkable in the circumstances as Neston had no answer to Allenby who bagged goals 3, 4 and 5. Neston grabbed a couple themselves and injured playmaker Rob Thompson fired home number six for a 6-3 win.
The sixes had a good win away at Knutsford scoring 3 goals to 2. The game started well and whilst it never looked convincing Alderley had the majority of chances but failed to convert a number of these. Over the period of the game Alderley managed to just stay ahead to record their first league win of the season and give the side a boost that they will hope to carry over to the next few games.
Another fabulous performance from the 7s, saw them beat local rivals Macclesfield 4s by 5 goals to nil, thanks to Jed Hassid, Charles Barnes, Sam Buckingham and two from Charlie Toms.
Match report by James Riley.
Tags: