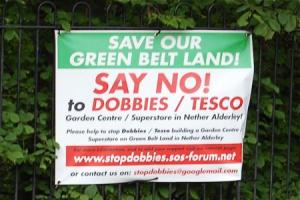 Green Belt campaigner, Rodney Hamer and fellow objectors continued the battle this week to prevent the Dobbies development on green belt land in Nether Alderley; along the new southern section of the A34 bypass.
The Dobbies 'Public Consultation' took place at the Parish Hall in Nether Alderley on Wednesday and the Cricket Club in Alderley Edge on Thursday. The campaigners made their presence felt at both events with their 'Save our Greenbelt /Stop Dobbies' banners and posters.Their main objective was to get people to sign up to the petition they are creating: 'Save our Green Belt Land'.
Many enthusiastic, like minded supporters attended both meetings and the overriding feeling of both those entering and leaving the exhibition was one of shock and horror that such a massive development could even be considered and as importantly; proposed within the much treasured green belt around Alderley Edge.
Many local people were only too happy to sign up to Rodney's campaign given what they had seen within the exhibition. People with knowledge of the local area and the Matthews original, special planning consent were surprised and appalled that such a permission, given specifically to a small, longstanding local business could be 'snapped up' by Dobbies.
Dobbies were sufficiently worried about the presence of the campaigners that they asked them to take down their banners and posters, despite both events being public meetings. Indeed, after some two hours the enthusiastic objectors were evicted from the car park of the Cricket Club on Thursday afternoon.
Not deterred in any way and despite the heavy rain, the noble campaigners turned the eviction to their advantage and were able to not only lobby those local people visiting the exhibition but also gained support from tennis players, residents of Moss Lane and passers-by.
The campaigners and many of those visiting made the following comments: "What does emerge is that this so called 'Public Consultation' is nothing but a cynical PR exercise. The Questionnaire was merely a 'tick the box' form asking rhetorical questions about peoples' opinions on a scale of one to five. There was no opportunity to say no. Anyone merely filling in the form could be deemed to have offered some degree of support. A bit like asking turkeys before Christmas whether they would rather be shot, strangled or electrocuted!
"Certain aspects are at best misleading, at worst untrue, for instance this new proposed Garden Centre/ Superstore is shown on the marketing material as being roughly the same footprint as the old Matthews Nursery site. This is because they have coloured pink BOTH Matthews Sites, the old; plus the new".
"Why did the PR team constantly claim that Dobbies are nothing to do with Tesco? This is simply not true". "We have all seen what happened along the Wilmslow/Handforth section of the A34 bypass, there are huge supermarkets, department stores, car dealerships, DIY centres, leisure centres, house building on a grand scale and office blocks (still empty). Enough is enough!". "What about local, small business; Ned Yates and other local garden centres and nurseries? We would rather patronise them than add to Tesco's massive market share yet again!".
The aim of the campaigners is to keep the green belt undeveloped, and if the planners allow Dobbies ((Tesco/ massive/ retail/garden centre) to proceed, then it will undoubtedly be the start of ribbon development. They contend that the new bypass will have been a complete waste of time and effort and ask the question; "why should the £50M paid by taxpayers advantage Tescos yet again?".
Everyone in the local area is urged to be aware of exactly what is proposed and the disastrous effect it will have on the rural landscape as well as the many local businesses who will suffer; this is not merely a garden centre, it is a retail outlet, Dobbies sell all kinds of food including meat and cheese, clothes, furniture, gifts, etc. Shopkeepers in Alderley Edge and Chelford will undoubtedly be adversely affected.
The campaign 'Save our Green Belt / Stop Dobbies/Tesco' started just two weeks ago and has received a huge amount of support from local residents. The Alderley Rural Protection Organisation (ARPO) has been formed with support and guidance from NARPA (Nether Alderley Rural Protection Association), the Edge Association and the CPRE. Further support is still needed to spread the message, lobby and give out leaflets.
As importantly, donations to ARPO and their fighting fund would be very welcome. You can donate online to: ARPO A/c number 10275782 sort code 16-11-29 Contacts: website www.stopdobbies.sos-forum.net , email [email protected].