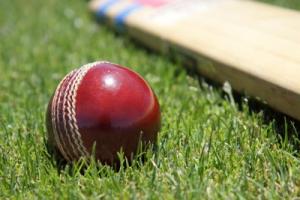 At 34-4 batting first against Bowdon, Alderley Edge 1st XI and their supporters could be forgiven for experiencing a certain feeling of déjà vu. The top order batting, with one or two exceptions, has failed to fire throughout the season. Often the middle and lower order have rallied the innings, and this time Charlie Reid was almost single-handedly responsible for putting Alderley in with a chance. His superb 84, including a 50 partnership for the 6th wicket with Adam Wildig, giving the final total of 174 all out a modicum of respectability on a green and seaming pitch.
Bowdon's star bowler was ex-Glamorgan quickie Chris Ashling who took 6-63 from 20 overs of accurate fast bowling.
Bowdon have rallied recently in a fight against relegation, but their travelling fans looked glum when they were reduced to 10-3 through a hostile opening burst from Simon O'Brien. However, Ashling's brother Patrick took the attack back to Alderley and made what proved to be a match-winning 81.
With a number of regular bowlers unavailable, Alderley's 3-man attack of O'Brien (who took 4-67 from 20 admirable overs despite being an injury doubt until virtually the last moment), Reid and James Bateman stuck to their task well. With wickets starting to be whittled away, the match looked likely to reach a very tight conclusion, but in the end the total proved just insufficient and Bowdon achieved a 3-wicket victory, and thus assured their Premier League safety.
By notching up the necessary bonus points Alderley made survival a mathematical certainty, so disappointment at the defeat was tempered a little.
The 2nd XI are still in a relegation dogfight. Batting first at Cheadle their innings replicated that of the 1st XI as an early collapse was countered by a brilliant 111 from Luke Wolstenholme. With only Dan Fesmer providing any real support, Alderley managed to get to 195 all out. Tight bowling from Fesmer, James Scott and Mark Warnes then put Cheadle well behind the clock, and for a team lying 4th in the league with nothing to fear, their batting was strangely negative and defensive.
Alderley did their best to open up the game and this brought a flurry of runs late on in the innings, but the fall of a couple of wickets led to the shutters being firmly put up again. Cheadle finished on 174-7 from 50 overs, with Fesmer and Warnes taking 3 wickets each. Alderley's 12 points at least leave their fate in their own hands, but a last-day match against runaway champions Toft now assumes massive significance!
Match report by Rick Davis.