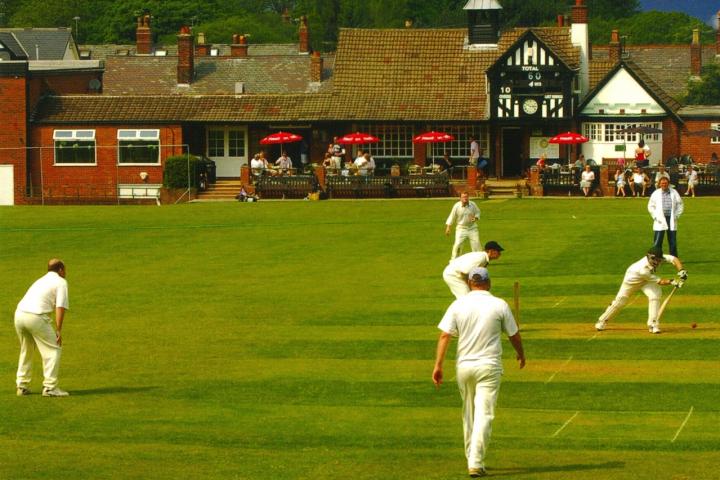 In need of a victory against a side below them in the league table, Alderley Edge were put into bat by Nantwich on Saturday.
They started very well, with Mark Currie and Alan Day putting on 73 at over 4 runs an over before they were dismissed for 39 and 26 respectively. Calum Rowe at number 3 was in a mood to push home Alderley's advantage, but on a benign pitch against a fairly anodine bowling attack, Alderley's middle order was unable to give Rowe the support he needed, with some batsmen out to extravagant strokes that did not suit the match situation.
As a result Rowe had to restrict his attacking inclinations and batted through for 66 not out, allowing Alderley to reach 219-9 from 55 overs, a respectable score but one that given the start and the conditions possibly ought to have been considerably higher.
It wasn't long, indeed, before the total began to look woefully inadequate, with Nantwich's openers racing to a 100 partnership against an attack which lacked penetration on the day. This was not helped by the failure to take two difficult chances, something that is becoming a familiar and unwelcome recurrence.
Tom Foreman was easily the best bowler of the day, his spell of 11 overs 2 for 35 putting the brake on Nantwich's scoring and at least ensuring the match was still in progress when the rain swept in and caused an early cancellation with the visitors well poised on 165-2 with 15 overs still to play.
The 2nd XI, looking to haul themselves out of a relegation slot, travelled to Nantwich boosted by some new young blood in the team. One of whom, 15-year-old James Scott, smashed a brilliant 109 not out, allowing Alderley to declare early on 285-5 from 44 overs.
Jonny Scurrah (73) and Jonny Usher (47) also making useful contributions. The ever reliable Dan Fesmer soon got stuck into the Nantwich batting, but the home side put up stubborn resistance and despite Fesmer's 5-49, Alderley were frustrated by the last pair who held out for a draw, Nantwich ending on 162-9.
The 3rd XI took another step towards the title on Sunday, firing Urmston out for a meagre 37, a total passed for the loss of 1 wicket in just over 6 overs. Meanwhile the future of the club is looking bright, with the Under 13 team defeating first Neston last Friday in the county final of the NatWest Trophy, and then dispatching Lancashire champions Leyland on Sunday morning to move into the national quarter finals. Congratulations to coach Dave Elms and his young team on their outstanding achievement.
Match report by Richard Davis.