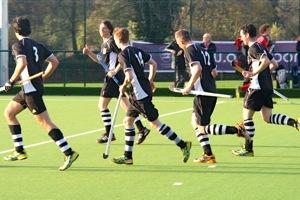 Alderley Edge men's first team began their pre-season with a relatively comfortable win away to Didsbury Northern.
The first half began at an unsurprisingly slow rate with the match being both sides first game after the summer break. The Alderley defence of Kay, Whitehead, Badger and Barnes looked comfortable with the ball, though it took until the 15th minute for Alderley's possession to pay. A second short corner in succession saw James Warburton open his account with a drag flick low to the keeper's right.
The goal seemed to release a few of the Alderley nerves as the new look Alderley midfield of Parr, Gibson and Williams began to take control of the game. However, there was no further score in the first half.
The second half saw Didsbury come out with a new lease of life, putting more pressure on the ball and creating several chances of their own - forcing Riley into several important saves.
The aggression from Didsbury left them slightly more exposed at the back which led to Alderley scoring their second of the game from an interception in midfield. The ball was played up to Warburton who attacked the left hand side of the D proceeding to find Sam Gregory making a well timed run into the D to deflect in at the near post.
Again the goal seemed to lift the confidence of the midfield with Harry Whitehead making his debut and Parr beginning to make real inroads into the Didsbury defence without an end product. However, the pressure eventually told when a well timed through ball from Joe Coxon was met by a sliding Sam Gregory for his second to make it 3-0.
Didsbury did manage to score eventually despite Riley's best efforts, though there was no blame to be attached to the Alderley keeper as the Didsbury forward cut inside and volleyed the ball into the top corner to deny Riley what would have been a well deserved clean sheet, making the final score 3-1 to Alderley.
The result was very encouraging especially from the new faces (Parr, Gibson and Harry Whitehead) who all seemed to have slipped seamlessly into the team.
The performance of the match must go to Jim Riley for a succession of excellent saves and was only denied a clean sheet by a superb goal from Didsbury.
All in all it was a positive result for the Alderley side that can use the game as a platform from which they can enter the season with confidence and momentum.
Match report by Ben Whitehead.
Tags: