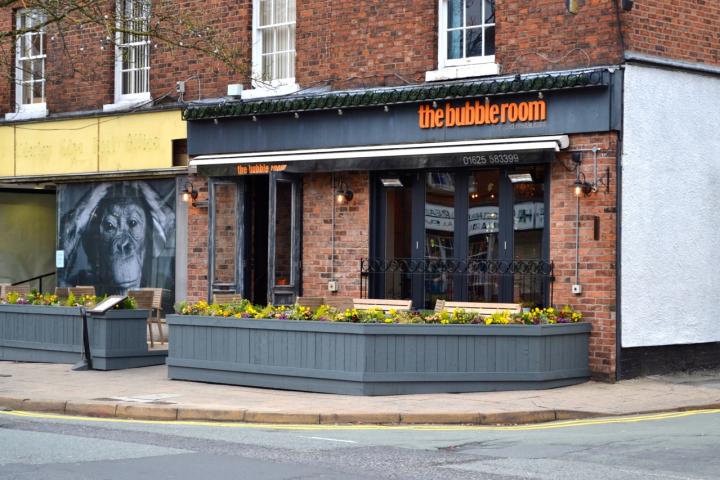 This is a guest post by the manager of The Bubble Room in response to my article "This village is going down hill quicker than people realise".
I am a local worker at one of the restaurants. I went to school for 17 years in the village, marched in favour of the by-pass, played sports on the field the council want to turn into allotments and have worked in the village for at least 4 years (before and after going to university).
You might know me if you attend AeTAG meetings (a group the traders set up to arrange nice activities for the village: Christmas light switch on etc) or Pubwatch (a group which meets with the police, licensing officers and other local bar and restaurant managers) - set up to ensure we operate as safely as possible and with as little impact on residents as possible. Wilmslow and Alderley recently merged due to a lack of licensed premises related incidents.
Or you may be one of my very valued customers. I work for the Bubble Room - a small family run business which seems to get no support whatsoever from the parish council. Quite the opposite - we seem to be the premises that is constantly singled out despite the hard work we put in to ensure we do everything we can to work with the community.
I have decided to finally write in because, while I can't speak for all, I feel deep frustration and dismay at the opinions about the local bars and restaurants that many of you are led to assume, due to the comments of a small group of councillors and a couple of ill advised residents. I think it's about time that you heard the opinion of a worker.
Parking: while most of my staff live in the village (so park at their houses) the few that do drive pay for parking during the day or park in our private car park at night. I know this because they moan daily about having to pay and because at night we have to escort them in the dark to their cars to ensure they are safe - but in silence so that they don't disturb residents by talking. Our security light was deemed too bright by a local resident so we have turned it off. So as you can see they are not parking on double yellows or using up all the free parking.
My customers during the day are often local workers or businessmen - they need to be able to park to run the businesses that you want in your village. Other customers manage to park, visit local shops and come for a light bite with very little difficulty finding a space. Workers and customers have to have equal rights to parking - you can't go shopping if there is no one to serve you.
I agree that people should respect the Highway Code and acknowledge yellow lines etc - but this isn't an issue exclusive to bars. I saw hundreds of people park on double yellows to visit the old post office and then leave their car for a prolonged period during the day. I also dispute that it is our responsibility as restaurants to act as parking wardens! I don't see supermarket employees asking their customers to not park on Clifton Street (residential parking during the day) why are they not included in the new "parking initiative"?
Litter: the state of the village, roads and pavements are a constant topic of conversation at our traders group. We have been trying to get the pavements jet washed to improve the appearance - but apparently we would have to foot the bill ourselves! As for the un level paving - the council and highways seem to push the issue from pillar to post. The same applies to litter. Despite the councils claims - my staff and I are forever sweeping outside our area to keep it tidy, even much further afield so as to appease our neighbours. I even try to maintain the council planter which people now use as a rubbish bin due to the lack of upkeep.
It's not only cig buts from customers which litter London Road - it's also: crisp packets from shoppers and passing cars, napkins from the local coffee shop, dog mess from local residents who let their pet mess on the pavement and then leave it for me to pick up, and cig buts from shoppers, office workers and shop workers who have no outside area with ashtrays to use (evident by their use of my flower beds as ash trays when they happen to walk past as they seem more convenient than the floor).
When I am sweeping the road at 8am on a Sunday morning - I don't see anyone else doing it? How is it just our responsibility because we are a restaurant? Surely everyone in the village has a duty to keep it clean? Maybe the council could provide some cigarette bins? If it wasn't for the local bars and restaurants sweeping up after others in the village - it would be a lot worse.
Noise and antisocial behaviour: Even with our best intentions and efforts - there is still the issue of people having a little bit too much fun and making a little bit too much noise for some residents liking. This has been the case for years and years near village and town centres.
It is very unfair for certain individuals to blacklist certain places as the culprits when they are in their houses and not outside the place itself. The noise could be coming from anywhere! It could even be coming from "youths" in the park, or a group in their own garden. Unfortunately while we can do our best - its a fact of life.
When residents do potentially put their houses on the market - do you think that potential buyers would prefer to see a road of empty shops - deathly quiet and full of "to let" signs, or a bustling village with attractive shop fronts and successful businesses? Alderley Edge is a place people want to live in because of the village life - please try and support it rather than ruin it, as has happened in Wilmslow.
As for antisocial behaviour, these "youths" that urinated on a councillor's car, were probably walking down Heyes Lane because they had reached the end of London Road and had been refused entry from all the bars. We all operate a check 25 policy and some including where I work run an over 21 policy. Maybe the council should put their efforts into creating something to keep the "youths" occupied? Or maybe if Jim Newns wasn't so busy ticketing parked cars, or cig but throwers, he would have the time to deal with groups roaming the streets, or the recent spate of local burglaries? Rather than blame the bars - try and look for the real problem and the bigger picture.
I would also like to contest the comment made by a local councillor "these people that go into these bars - what do they really do for the village?" Many of my regular customers are local residents who pay council tax and support local shops and businesses - keeping this village alive. Others are local business owners - jewellers, clothes shops, florists, post office workers, charity shop workers, hairdressers - the list is endless. All of which pay business rates and I would argue they do a lot for the village and its residents.
One example is that many businesses, including the Bubble Room, support local schools, charities and fund things like the Christmas Lights which help to make the village look so beautiful at Christmas. I personally think it is a disgrace that someone who is in a position of responsibility would say otherwise.
The village is a great place, and while I don't live here, I care a lot about the future of Alderley Edge. I love working here and being a part of village life. If everyone put the time they spent obsessing about all the small problems and actually came out, supported and enjoyed village life - they would really see what they are missing!
Guest post by Emma Cail, manager of The Bubble Room.
Tags: