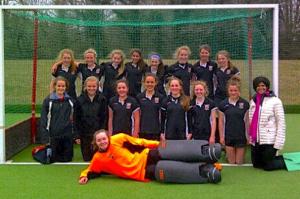 Alderley Edge Hockey Club is through to the national finals of the under-14 championships after a series of emphatic wins over other qualifiers from across the North.
The club came out of the North area finals victorious after beating challengers Springfields, Wakefield and Belper at Edge Hockey Centre on Saturday, 13th April.
Under the guidance of coach and first team captain Tessa Bryant, the team produced an impressive display, winning 4-0 in each of their matches.
The girls played all three 30-minute games in confident style, defeating all opposition without conceding a single goal.
The team performances produced 12 goals with captain Lily Wolstenhome scoring 6 and 2 each from Jenni Park, Tor Hughes and Ellie Burns.
At the finals, which will be held on Sunday 12th May at Beeston Hockey Club in Nottingham, the team will face tough opposition from other regional winners.
Team manager Manjit Wolstenholme said: "We are so proud of the performances produced by all the girls on Saturday. Their hard work and commitment really paid off."
Member post by Olivia Rudgard.
Tags: