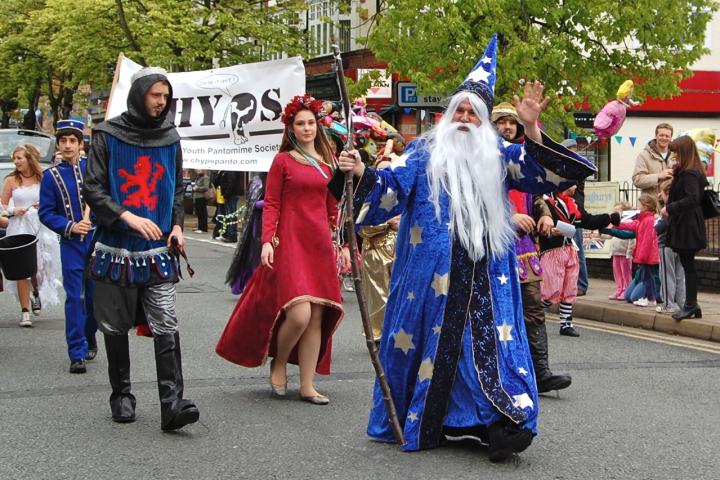 An Alderley Edge business owner has written to the Parish Council regarding this year's Alderley Edge May Fair.
Judy O'Brien who runs Mr Simms Olde Sweet Shoppe, on London Road, wrote to parish councillors because she felt it was disappointing to see that priority had been given to traders from outside of the area, above local businesses, at the event.
Mr Simms Olde Sweet Shoppe requested a stall at the May Fair but was refused on the grounds that another sweet stall, which was not local, had already been booked. Having discussed this with a councillor she decided to send two girls who work for her into the park to sell sweets from a basket, but they were told to leave the park by organiser Christine Munro soon after arriving.
Judy O'Brien said "After discussion with a representative from the council, I decided to send my girls to the fair with our usherette basket to sell little bags of sweets for children. However, even though it was my belief that the park is a public space, they were told in an unpleasant manner by one of the organisers, to leave immediately.
"Having visited the fair myself I observed that quite a few trades were duplicated, for instance there were several cup cake stalls, craft stalls and food sellers. Therefore I would have thought that even if Mr Simms could not be the only sweet stall, one other sweet stall could well have been incorporated. Incidentally, many of our customers asked us why we were not represented at the fair and were surprised to hear that an outsider had been given priority."
Organiser of the event Christine Munro explained "Judy O'Brien sent me an email on the 24th April asking if she could have a space on the park at the May Fair. I told her that the person who came last year with sweets had booked in to come again this year and I couldn't have two people selling the same product at the event as it wouldn't be viable for both of them, so I was sorry I couldn't let her have a space.
"On the morning of the May Fair I saw two girls come into the park with the parade. They were selling Mr Simms sweets on usherettes trays. I told them I had already told Judy I couldn't let them sell sweets on the park and asked them to leave. They told me that Judy had told them the Council had given permission for them to sell on the park. I replied that I had hired the park and the person who was selling sweets on a stall had paid to be there and it wouldn't be fair if someone came along and took their business. I told them they must leave and they did."
Christine added "When I first thought of organising an event on the park I wanted to include as many of the local businesses as possible. I wanted them to benefit from what we were doing.
"I approached everyone in the village and asked if they would like to be involved. Weinholts, Alan Jackson, Horseshoe Farm, Portland Wine and Corks Out all said they would like to take a space and they did. This year Chilli Banana and Aldeli asked if they could be included also and they came along. Many of the local businesses also provided fantastic prizes for the raffle which will help to finance the event for the future.
"All the traders have been very supportive and helpful and I have had very many complimentary comments from them to say how much they appreciate the hard work that is put into the event and how they benefit from the extra custom on the day."
Speaking at this week's Parish Council meeting, Cllr Sue Joseph said "I saw the girls when they were sent out of the park and they both looked quite upset about it. They were sent out pretty sharpish by a member of the organising committee."
Cllr Joseph added "I object to it strongly, first and foremost traders in the village should get the trade that's going. There were other stalls that there were two of so why couldn't we have two sweet stalls?"
Cllr Mike Williamson added "I agree. We'd like local businesses to be given a fair crack of the whip."
Judy O'Brien explained "In my opinion although it is wonderful to put so much effort in, the organisers of the May Fair or any other village market should not be allowed to go ahead without it being conditional that local businesses and craft people are given 1st priority, thus diluting the power of the key organisers.
"If Mr Simms Olde Sweet Shoppe has organised anything, albeit it small, we have always been mindful to make the event open to everyone in the village. It is appalling to bring stalls in from far afield when local traders are willing and able to contribute."
What do you think? Should Mr Simms have been allowed to have a sweet stall at this year's May Fair and priority given to local businesses?
Please share your views via the comment box below.