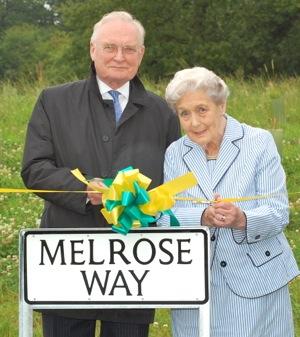 The A34 Alderley Edge and Nether Alderley Bypass has been named Melrose Way in honour of the person who fought tirelessly for its construction since the 1960s.
Margaret Melrose, 83, became a councillor in 1967 and was instrumental in lobbying both local councils and the government to build a bypass to ease congestion in and around Alderley Edge.
Margaret, from Trafford Road, has lived in Alderley Edge for 21 years. She was a councillor for 34 years and twice Chairman of Cheshire County Council – the first woman ever to hold the position (in 1984).
After years of campaigning, Margaret, along with Councillors past and present, witnessed the opening of the £52 million bypass by the Chancellor of the Exchequer George Osborne on November 19th, 2010.
During the celebrations that followed the opening ceremony, at the Festival Hall, Councillor Wesley Fitzgerald, Leader of Cheshire East Council proposed that the bypass be renamed Melrose Way.
The idea was greeted by rapturous applause by all those who attended the opening ceremony and the official naming ceremony took place on Thursday, 4th August, at Nether Alderley Parish Hall.
Margaret Melrose said: "I am pleased and honoured to have the bypass named after me. I never actually thought I would live to see it built. I would like to thank Cheshire East Council for this dedication and also all those who have worked so hard to make the construction of the bypass possible.
"It is very pleasing to see that this most attractive road is already relieving traffic congestion in Alderley Edge."
Councillor Wesley Fitzgerald, Leader of Cheshire East Council, added: "I am delighted that this proposal, first mooted during the grand opening of the new bypass, is now a reality. Margaret has remained incredibly modest, despite her unwavering efforts to bring this much needed bypass to Alderley Edge. This is a fitting honour to someone who has worked very hard of the people of Cheshire East for many years."
Tags: