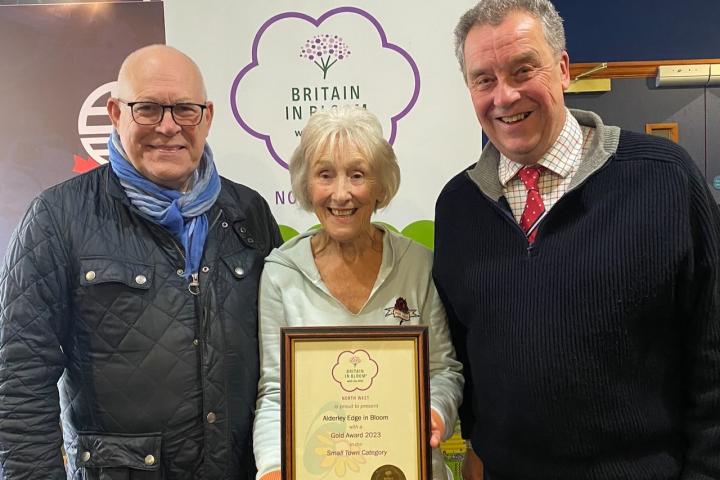 Alderley Edge in Bloom volunteers received a fantastic 4th 'Gold' award in a row in the 2023 RHS North West in Bloom Competition.
The awards ceremony took place at Bolton Wanderers Football stadium on Thursday, 19th October, with over 300 guests present, representing In Bloom gardening groups from across the North West.
Group Chair Leslie Cox was delighted the group's efforts had again met with the judges approval. He said "It's a credit to all our wonderful volunteers who have created and maintained planting displays and litter picked the village on a weekly basis.
"It's been tough to keep up the Gold standard this year with a declining pool of volunteers. If anyone would like to join in going forward we would love to hear from you. There's no big commitment required, every contribution counts, no matter how small."
There was further success for the village in the RHS 'It's Your Neighbourhood 'category awards. Chorley Hall Lane Allotments and the Station Volunteer Group were both judged as top level 5 performers -'Outstanding ' with the Lydiat Lane wall display marked as level 4 - 'Thriving'.
Please email Leslie Cox if you would like to volunteer to help make the village a greener cleaner environment.
There's an opportunity for new volunteers to join in another 'Litter Pick the Bypass' event on Sunday 5th November. The plan is to litter pick on Melrose Way - the A34 Alderley Edge bypass.
Volunteers will meet up at the Chelford Rd bridge close to the cemetery at 11am and spend around an hour or so picking on both sides of the bypass.
Tags: