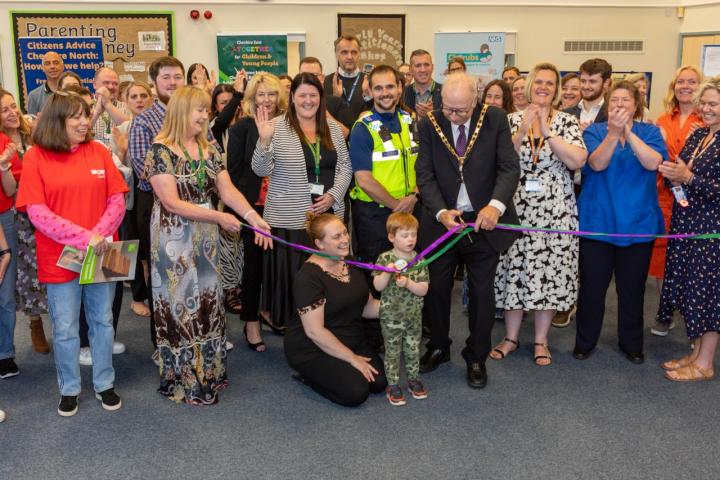 Staff from Cheshire East Council, the NHS and community organisations celebrated the opening of their first two family hubs in Wilmslow and Crewe.
Family hubs are designed to bring council, health, and community services together, so that families with children and young people can access the right help and support, at the right time.
The existing Oakenclough children's centre in Wilmslow has been developed into one of the borough's first two family hubs, to support children and young people from birth until they reach the age of 19 (or up to 25 for young people with special educational needs and disabilities). Further centres will be developed over the next 12 months.
Families also attended the opening events and enjoyed activities including face painting, balloon modelling and magic - together with wellbeing advice and more. For the young people there are also new chill out rooms featuring gaming stations and pool tables, whilst parents and carers could learn about which services will be delivered from the hubs and their networks.
Services that will be delivered from family hubs include:
Midwifery appointments, health checks, breastfeeding, weaning and nutrition advice, early years play education and sensory development
Support from health visiting and school nurse teams
Tailored and intensive support for families who may need a little extra help
Family help and support for children with disabilities or additional needs
Practical support around finance, housing and supported learning
Youth support services
Mental health support for children, young people, families and new parents
However, family hubs won't just be about physical buildings – their services will eventually be available in a variety of ways including using community spaces and online.
£1 million was awarded to the council last year, from the Department for Education, to develop family hubs across Cheshire East. They were one of the first 12 local authorities to receive the funding, having until 2024 to implement this new way of working.
Councillor Carol Bulman, lead member for children and families at Cheshire East Council said: "We want every family in Cheshire East to be able to benefit from the range of services our family hubs offer, so that all those who need support can find it.
"To help give children and young people the best possible start in life, family hubs will offer a broader range of services based upon local community needs - making it easier for them to access support.
"I am delighted to celebrate our journey so far on this vitally important service that brings services together for every stage of family life."
For more information about family hubs in Cheshire East, visit: www.cheshireeast.gov.uk/familyhubs