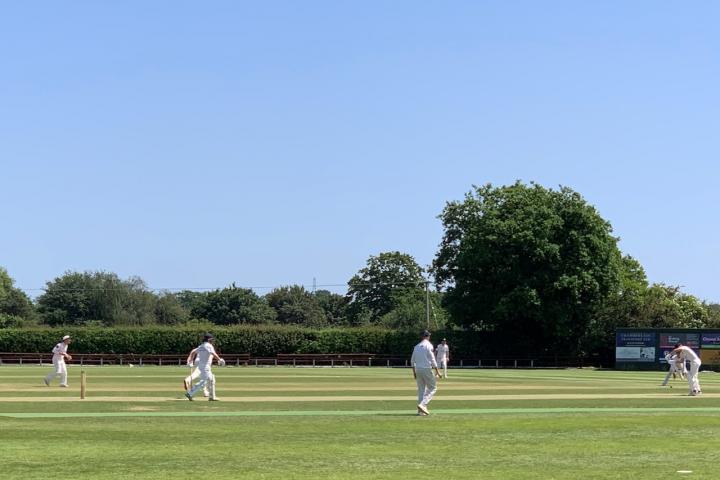 Alderley Edge First XI ended up on the wrong side of a low-scoring encounter with Nantwich at Whitehouse Lane on Saturday in the Cheshire County Premier League after being asked to bat first on a surface with varied bounce that has seen a string of low scores on it this season.
At 43-1 Alderley had a steady enough start to build on but that probably represented the brightest point of the visitors' day as a string of low scores saw Alderley shot out for 100 inside 28 overs, opener Sam Perry recording 23 and Richard Wilkinson mustering 20 in the face of 4-54 from Phil Stockton and 4-8 from Mitchell Spencer who in particular took advantage of the bowler-friendly conditions.
The heavy roller applied at the tea interval seemed to kill off any demons in the pitch and Nantwich looked to be batting on a completely different surface in the second innings as number three Marcus Stables completed an unbeaten half century with Alderley showing determination to take 4 wickets before the hosts crossed the line in the 21st over of their reply, Richard Wilkinson and Charlie Barnard both taking two wickets for the visitors as they fell to a 6-wicket defeat.
On Thursday Alderley booked their place in the last 16 of the Cheshire T20 competition after overcoming North East Cheshire by 5 wickets at Moss Lane. Winning the toss the visitors chose to bat first and made a swift start off the back of Sam Waller's 51 off 25 balls, including 3 sixes, as North East made their way to 64-1 in quick time.
Number 4 Will Ritchie added 33 from 40 balls from the middle order but as Alderley's bowlers began to strike regularly the scoring rate slowed with Ben Kohler-Cadmore (3-28) and Dan Fesmer (2-24) doing the damage for the home side in restricting the score to 141-6. Alderley started steadily in getting to 40-2 in the first 8 overs of the reply before a quick fire 44 from 23 balls by Tom Foreman added some further tempo to the reply and a measured 70 not out from Subhaan Mahmood taking the hosts to their target with 11 balls to spare.
On Saturday Alderley's Second XI recorded a comprehensive 8-wicket win over Oulton Park at Moss Lane. Choosing to bowl first Alderley wrapped up Oulton Park's innings inside 31 overs on the back of 5-39 from Alan Day with 54 from opener Andy Mills and 30 from number 7 Paul Wilkinson the chief contributions for the away team. In response, 57 from captain Andy Kennedy and a superb 88 not out from number three Henry Stevinson saw the hosts home to claim the full 25 points.
On Sunday Alderley's Third XI fell to a 34-run defeat against Toft at Moss Lane. The visitors elected to bat first after winning the toss racking up 179-8 off their 40 overs with 38 from Jacob Bainbridge and Paul Ashley's 36 providing the lion's share of the runs, Alderley's attack sharing the spoils around with Tom Briggs, Zac Sillitoe and Stan Price bagging two wickets each.
Tom Briggs' 34 from the top of the order started Alderley off on the right foot and 38 from Ed Pitt in the middle order kept Alderley on track but a spell of 4-26 for Paul Ashley pulled the rug out from under the hosts' lower order to bowl Alderley out with 10 balls remaining in the contest.
Match report by Andrew Windle.