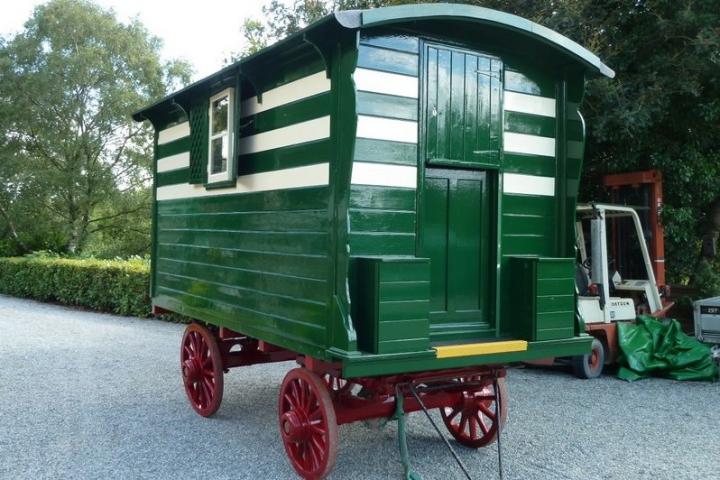 Many Wilmslow residents will remember Romany's caravan which used to be located in the Romany Memorial Garden near the library.
Reverend Bramwell Evens, better known as 'Romany of the BBC', was a pioneer natural history broadcaster and nature writer. He lived for some time in Wilmslow and his holiday holiday (Vardo) became a tourist attraction within the town.
Having been sited in Wilmslow Memorial Gardens for 70 years the Vardo was transferred to Bradford Metropolitan Borough Council from Cheshire East Council in 2012 and is now stored within the Bradford Industrial Museum.
Prior to its transfer, the Vardo was a feature in the town and many residents were very disappointed at its loss and the possibility of its return to the town is still regularly raised within the Romany Society and local community groups.
Cllr Dave Jefferay said "In March 2023 I thought I would contact the museum directly to ascertain whether they have long term plans for the Vardo or whether disposal is something they may consider either now or in the future."
He received the following reply:
Dear Cllr Jefferay,
After a discussion with the rest of the team this morning we have agreed that this is something that we would consider. We would need assurance that its future was safe with yourselves to be able to transfer ownership, but we agree that for it to be housed and viewed in a secure location in Wilmslow would be a sensible and appropriate idea. If you would like to contact us as the project progresses and provide us with a timetable we can have a look further into the possibility of this for you. Best wishes.
Cllr Dave Jefferay added "Fellow resident Stuart Redgard and I therefore intend to set up a project with the objective of bringing the Vardo back to Wilmslow. It is not going to be easy because, at this point in time, we have no funds and nowhere to accommodate it.
"Therefore, if you have ideas, skills or enthusiasm that we could employ in the project, please feel free to contact me at [email protected]. It is highly likely that we will need to construct a weather-proof enclosure to house the Vardo so design/ construction/ planning permission knowledge would be especially useful, as would fund-raising/ grant application experience."
Stuart Redgard said "I have already established a Community Interest Company called "Romany of the BBC". The objects of the company are to act as a repository of physical assets and provide information and education services.
"I hope that ownership of the Vardo will be transferred to this company and that this will ensure that a permanent home can be found to enable it to be go on display to the general public. All funding for the project will be raised through this company to assure transparency and accountability."
Cllr Dave Jefferay intends to hold an initial brainstorming session in the coming weeks to get the ball rolling.